About Us
12 Tips for Operating a Mini Excavator
By Reannon Muth on Oct 2, 2019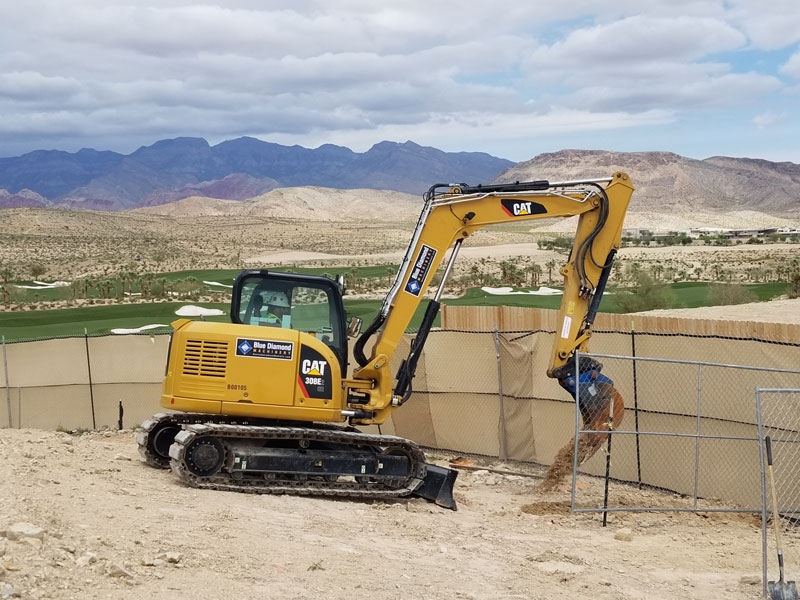 The mini excavator is a popular addition to any construction equipment fleet and one of our most frequently rented pieces of equipment, thanks to the machine's versatility and ease of operation. Below we've included some general information about the mini excavator as well as some tips on how to operate a mini excavator as efficiently and safely as possible. 
What is a mini excavator?
A mini excavator is similar to a standard excavator, only it's smaller. It's available both tracked and wheeled and can weigh up to 20,000 pounds. Any excavator that weighs more than that is generally considered a standard excavator, although some put that cutoff number much lower—at about 10,000 pounds. A mini excavator's bucket size falls between 12 and 24 inches. To learn more about the differences between a mini and other types of excavators, read our detailed guide to the 7 types of excavators. 
The benefits of renting or buying a mini excavator vs. a standard excavator
1. Less ground damage—Mini excavators are lighter and smaller, which means they cause less top ground damage. Because they are compact, they're easier to maneuver around crowded jobsites (like indoor areas or parking lots).
2. Easier to maneuver—Their smaller sizes make them easier to operate and their 360-degree rotation makes them ideal for working in narrow or cramped spaces. 
3. Simpler to transport—Unlike larger excavators, you can quickly load and unload a mini excavator onto a trailer or even a truck. Of course, you'll want to make sure the trailer can support the weight before doing so. 
4. Lasts longer - A mini excavator has a longer shelf life because it lifts less weight and carries smaller loads. By comparison, a standard excavator encounters a lot more stress and strain over time. Read: How to Extend the Life of Your Machinery. 
5. More versatility - Mini excavators can be used for a wide variety of projects because they work with a number of different attachments. This allows them to be used in range of functions in addition to digging and demolition. Some of them include: repairing sewer lines, snow plowing and installing hot tubs and swimming pools.
How to Operate a Mini Excavator: A Step-by-Step Guide
The video above will give you detailed instructions, but below are some of the highlights.
Step 1: When you climb into the excavator, make sure to use three points of contact as you lift yourself up and in. Keep in mind that falls are the number one cause of construction-related fatalities.
Step 2: Put your seatbelt on.
Step 3: Close the door.
Step 4: Start the machine by turning the key in the ignition.
Step 5: Look at the machine's display to see if there are any warning lights or other indicators. Check the fuel levels.
Step 6: Take safety lock off. 
Step 7: Use the joystick located to the right to raise the boom up and down. You can do this by pulling the joystick back to move the boom up and pushing the joystick forward to move the boom down.
Step 8: Use the same joystick to "open" and "close" the bucket. Push the joystick to the right to open the bucket and to the left to close the bucket.
Step 9: Use the joystick to the left to move the excavator's stick. Pushing the joystick forward moves the stick out and pulling it backward moves the stick back.
Step 10: You also use the left joystick to swing the cab to the right and left.
Step 11: To drive the excavator, make sure the blade is up and then use the the pedals on the floor to move the machine forward. Once you've repositioned, lower the blade again to stabilize the machine.
12 Tips for Operating a Mini Excavator
Before you begin: 
Before you set foot on the machine, it's a good idea to strategize and plan how you're going to approach the work ahead. Many operators fail to adequately think through their approach before beginning work and this can result in a waste of time and fuel. Some steps you might want to consider include determining where to put your spoil pile. This will help ensure you don't accidentally become "boxed in" in the middle of the project. You may also want to keep your team informed of your plan so that they can remain safely out of harm's way. 
You'll also want to ensure you have the right sized attachments on hand in order to maximize efficiency.
Before starting your project, test the excavator by running it on a level surface to make sure there are no balance issues. Also use this time to check for any machine damage, such as leaking oil or damage to the tracks. You should get into the habit of checking your coolant and lubricant levels every day before beginning work.
Safety tips: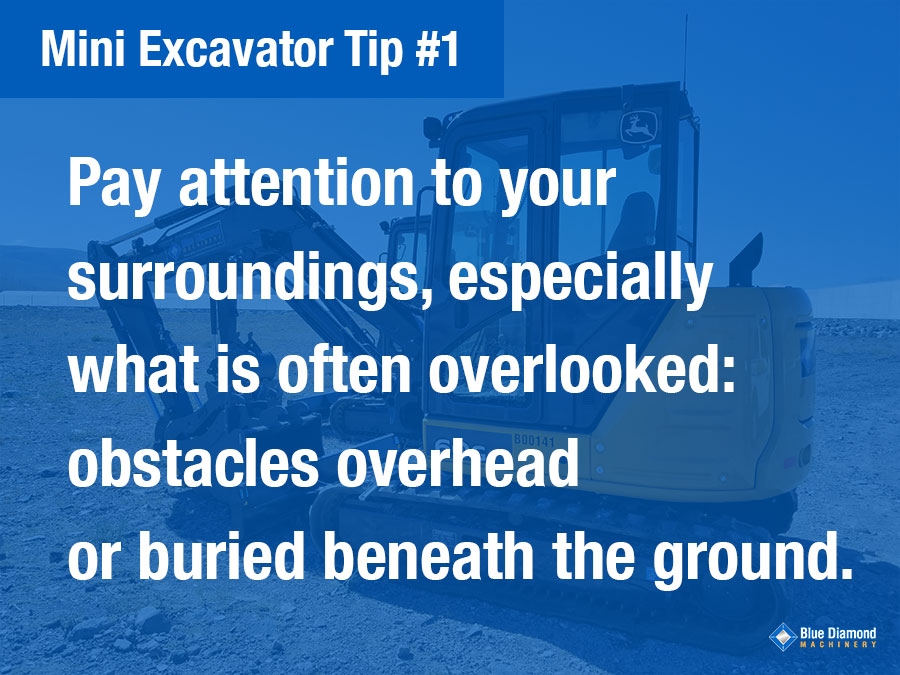 Use caution when moving the arm close to the cab in order to avoid hitting the blade or tracks with the bucket.
Make sure the machine's tracks rest horizontally to the ground. Whenever you can, double check the machine is on firm ground in order to prevent a tip-over. While mini excavators are generally stable machines, you want to do everything you can to ensure the safety of you, the excavator, and those around you. Plus, if you're trying to dig a level trench, you won't be able to do so unless your machine is level first.
This may go without saying, but never swing a bucket over people. This also should include people in cabs.
Pay attention to your surroundings, especially what is often overlooked, such as obstacles overhead or buried beneath the ground. This is what the excavator mirrors and cameras were made for—use them. 
When trenching, be careful that you aren't operating too close to the edge, especially if the soil is soft and prone to cave-ins.
Efficiency tips:
Prepare, prepare, prepare—This is so important, it bares repeating. You can maximize efficiency by planning ahead. This involves visualizing how your job will progress and even creating a mapped guide using stakes, string or a chalk line. When creating your plan of attack, try to find ways you can keep machine movement to a minimum. This will save you time, put less hours and strain on the machine and can even help reduce fuel costs.
Make sure to call 811 and inquire about any utilities before you begin digging.
Grease the machine every day and perform regular maintenance checks. Make sure to check the air filters every 10 hours and clear away debris every 50 hours.
Utilize the auto-idle function, as this can help save fuel and prevent early wear on the machine. 
Read: 14 Ways to Reduce Heavy Equipment Fuel Costs.
---
About Heavy Metal Equipment: Heavy Metal Equipment is an independently-owned heavy equipment rental and sales company. We are headquartered in Las Vegas and service all of Nevada, Utah, and Idaho. Our growing team of employees have over 65 years in the construction industry. Visit www.heavyequipmentrentals.com to learn more.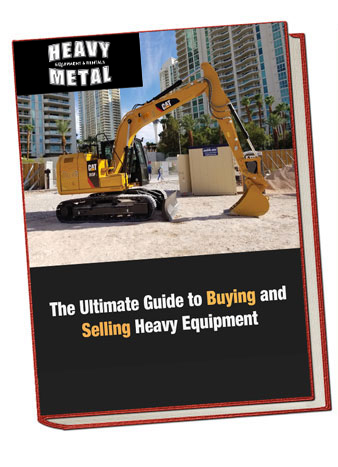 FREE

Guide to Buying and Selling Heavy Equipment

Enter your details to receive our complimentary ebook