About Us
8 Important Construction Injury Statistics Every Contractor Should Know
By Reannon Muth on Jul 18, 2019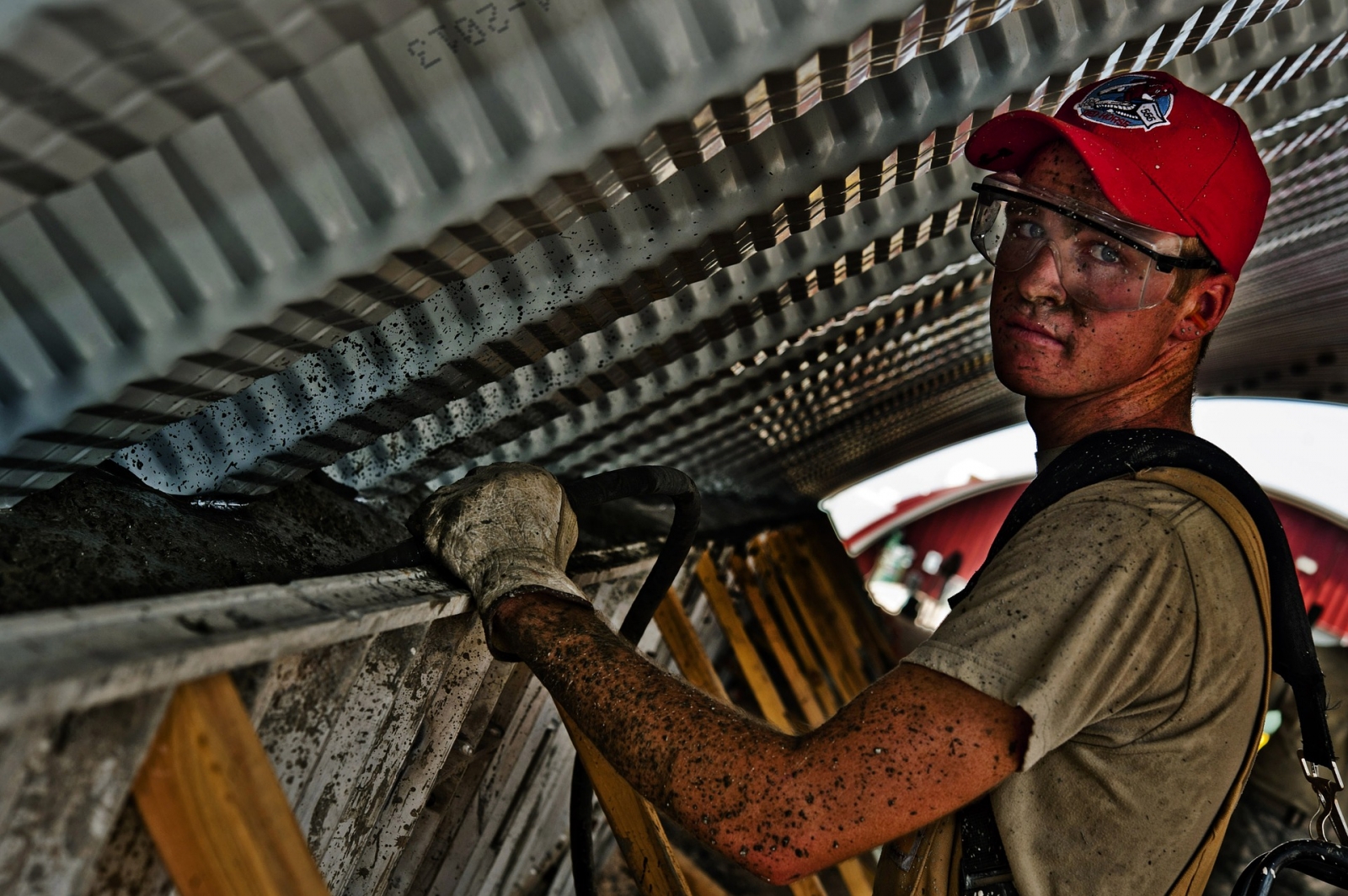 While the construction industry has become significantly safer in recent decades, it still remains one of the most dangerous fields to be employed. 20 percent of all workplace fatalities occur in the construction workplace.
It is therefore vital that contractors take every opportunity to ensure that job safety remains a top priority. Because not only can an investment in health and safety programs save companies money, but it can also increase worker productivity and more importantly, save employee lives.
Here are eight construction statistics that underline the importance of construction job safety.
1. Small construction companies are more prone to fatal accidents.
Smaller companies may sometimes lack the resources to provide adequate training and strictly enforce safety precautions. Perhaps this is why nearly 50% of all construction fatalities occur in companies with 10 or fewer employees or with those who are self-employed.
2. The majority of all construction worker deaths are caused by just four types of accidents.
59.9 percent of private sector construction worker fatalities can be attributed to just four causes: Falls, being hit with an object (such as a piece of heavy equipment), electrocution and being caught in or pinned between two objects.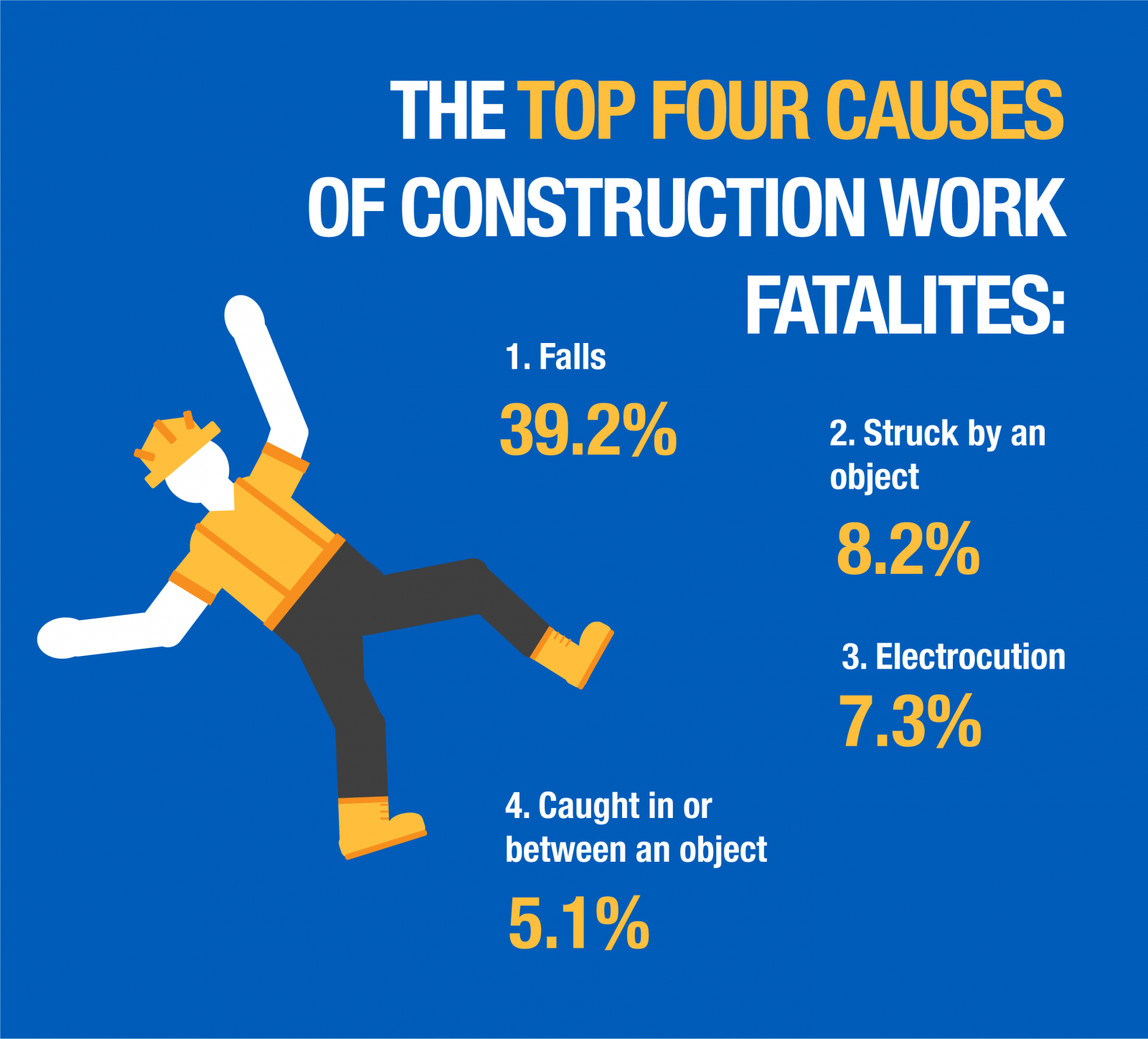 3. A worker is more likely to die from a fall if he works in the construction industry.
Fifty-one percent of all deadly falls that occur in the workplace occur in the field of construction. While this is not surprising considering the volume of workers who spend their work days balancing on scaffolding or climbing in and out of massive machinery, it's still a good reminder that fall prevention trainings should be a major focus of any construction company's safety program.
4. Construction workers have a 1 in 200 chance of dying due to a work-related injury.
Construction workers who work in the field for an average of 45 years will have a 1 in 200 chance of dying in a work-related accident. This stat acts as a good reminder that danger doesn't take a day off—and neither should safety inspections. Workers must remain vigilant at all times.
5. A construction worker has a 10% chance of being injured on the job at some point this year.
Fatalities are tragic but they remain relatively rare. What's more common, however, is the litany of non-fatal injuries that occur on construction sites on a daily basis. Non-fatal injuries occur on construction sites at a rate that is 71% higher than it is in other industries. One in every 10 construction workers suffers from an accident annually.
6. Hospital bills aren't the only costly expense.
It goes without saying that workman's comp claims can be expensive for companies. One fatal accident costs a construction company an average of $991,027 in hospital bills. But hospital bills are just one of the many expenses associated with on-the-job injuries. Injuries also damage productivity as well, costing American companies 104,000,000 in production days in 2017. What's more, the indirect costs of injures can often be higher than the direct costs—as much as 17 times higher, according to Safety & Health Magazine.
7. Safety precautions save thousands.
The best way to reduce workplace injury costs is to avoid them all together. Construction companies can save an average of $32,000 for each injury they avoid. Furthermore, for every $50,000 a construction company loses due to injury, illness or damage, it must sell an extra $1,667,000 in services in order to meet a 3% profit. Conversely, studies have found investing in company safety trainings can net tremendous savings. For every dollar a company spends on a health and safety program, it earns $8 in return.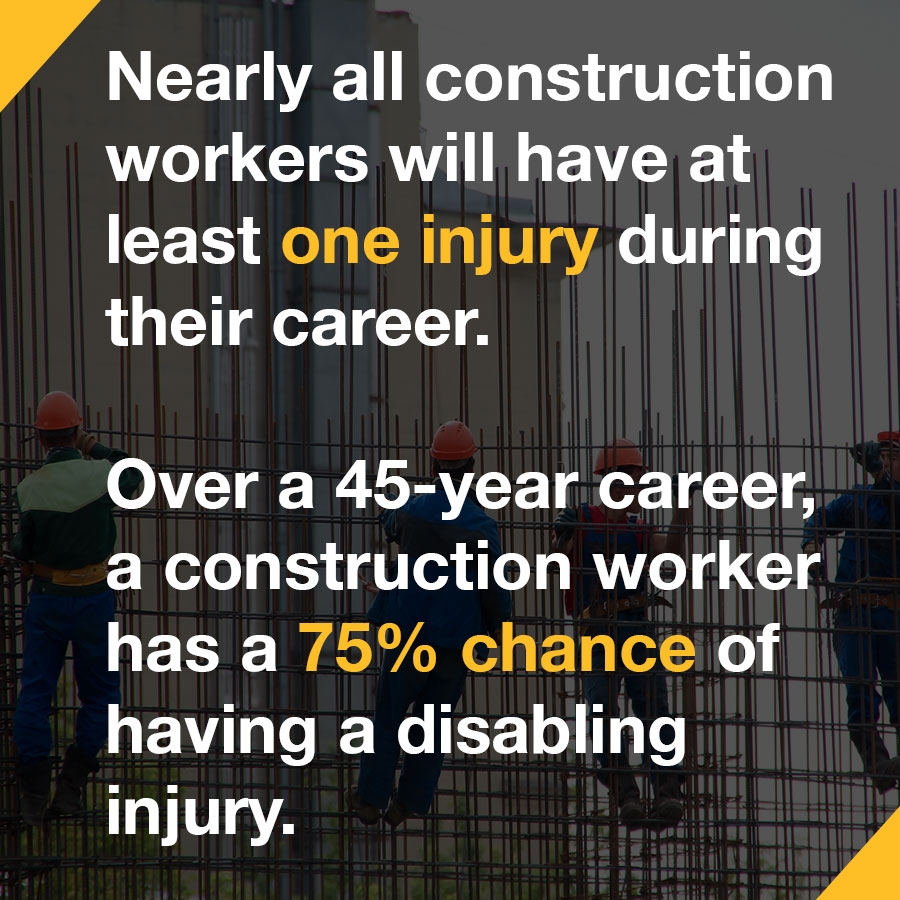 8. Workplace-related industries and fatalities are down across the country.
While these statistics may paint a dire picture of the construction industry, the news isn't all bad. The rate of on-the-job injuries and fatalities are down industry-wide in the US. In fact, in 2017, workplace fatalities related to crane injuries hit a record low of just 33 deaths. And worker injuries and illness are down—In 1972, there were 10.9 incidents per 100 workers. In 2017, there were 2.8 per 100 workers.
While accidents do (and will continue to) happen, construction companies can ensure they keep accidents to a minimum by conducting regular inspections and by providing frequent trainings and safety meetings. This will not only keep employees safe, but it will also boost productivity and lower company costs. When employees are safe, healthy and happy, everyone wins.
---
---
At Blue Diamond Machinery, we proudly serve the construction industry in all of Nevada, Utah and Idaho. We rent and sell a range of construction equipment, including excavators dozers, motor graders and forklifts. We invite you to browse our rental inventory listings. If you don't find something you're looking for, feel free to give us at a call at  1-800-712-4190.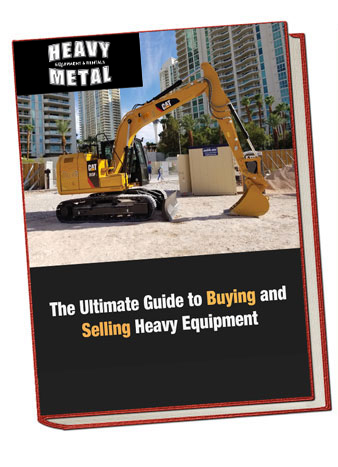 FREE

Guide to Buying and Selling Heavy Equipment

Enter your details to receive our complimentary ebook