About Us
Heavy Equipment Operator Safety Tips: 8 Ways to Prevent Jobsite Injury
By Reannon Muth on Jan 17, 2019
According to OSHA, the following are the top three causes of jobsite fatalities:
Runovers or backovers (48%)
Vehicle collisions (14%)
People hit or pinned by equipment (14%)
It may seem redundant to review heavy equipment safety tips, but as the statistics above demonstrate, fatalities still can and do happen--even to the most experienced equipment operators. It's important to frequently review standard operator rules and guidelines in order to keep yourself and your crew safe.
Below is a roundup of our top tips for staying safe while operating heavy machinery. 
1. Inspect equipment before operating
Be diligent about conducting daily inspections. Do an equipment walk-around at least once a day, making sure to examine all the components on your checklist, including oil levels and hydraulic hoses.
2. Identify power lines and underground utilities in advance
Upon arriving to a new jobsite, take the time to double check that all the power lines and low clearance obstructions have been identified. Also check that underground utilities, such as water, gas, sewer and electric lines, have been marked with color-coded paint and flags. 
3. Be cautious when mounting and dismounting equipment
According to OSHA, the most common cause of injury is falls that occur when a worker steps on and off equipment. Remember to have three points of contact when mounting and dismounting; Never jump. 
4. Wear a seatbelt
Wearing a seatbelt in a slow-moving machine may seem unnecessarily, but it's an easy and quick safety measure to take--buckling up only takes a few seconds--and it can can keep you safe during a rollover. 
5. Watch for blind spots
Before you start the equipment, it's vitally important that you're 100 percent positive that no one is behind you or standing in your blind spots. Enlist a spotter to help direct you or climb out of the machine and check yourself, but never assume the coast is clear. Let anyone working with you know about your blind spots and ask them make eye contact with you before approaching the machine. Also, remind any guests on the jobsite that they must keep their reflective safety vests on at all times.
6. Use a radio or hand signals to communicate
If you don't have a two-way radio on hand, use a spotter that is trained on the proper hand-signals. 
7. Take precautions when loading and unloading the equipment
Make sure you're on level ground when unloading and loading equipment. This will limit the risk of equipment sliding off of ramps or rolling over. As always, make sure the area is free of people and that a spotter is on hand to help.
8. Keep load limits in mind
Load limits can differ drastically between various machines, so stay aware of each machine's limit before and during operation.
---
About Heavy Metal Equipment: Heavy Metal Equipment is an independently-owned, heavy machinery company that sells and rents construction equipment across Nevada, Utah and Idaho. To learn more, call 1-800-712-4190 24/7 or view our used and new inventory at heavyequipmentrentals.com.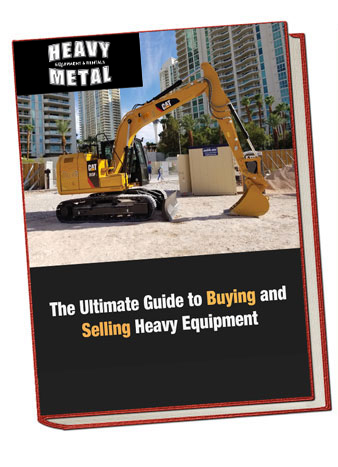 FREE

Guide to Buying and Selling Heavy Equipment

Enter your details to receive our complimentary ebook