The #1 Heavy Equipment Rental Company in Las Vegas
Our rental fleet offers a wide selection of equipment from every leading manufacturer, including John Deer, Caterpillar, Hitachi, Komatsu and more. Whether your project involves landscaping, road repair or a large-scale building project, we have the quality earth-moving machines available to fit your needs. No job is too big for us.
Our equipment has helped construct some of Southern Nevada's biggest and most talked-about development projects, including the Raiders Stadium, the Las Vegas ballpark, the Las Vegas Convention Center, Resorts World and more.
We are Nevada's top choice for efficient, high performance machinery. Our rental maintenance technology and round-the-clock customer care will keep your job on time and within budget.
---
100s of machines at your fingertips: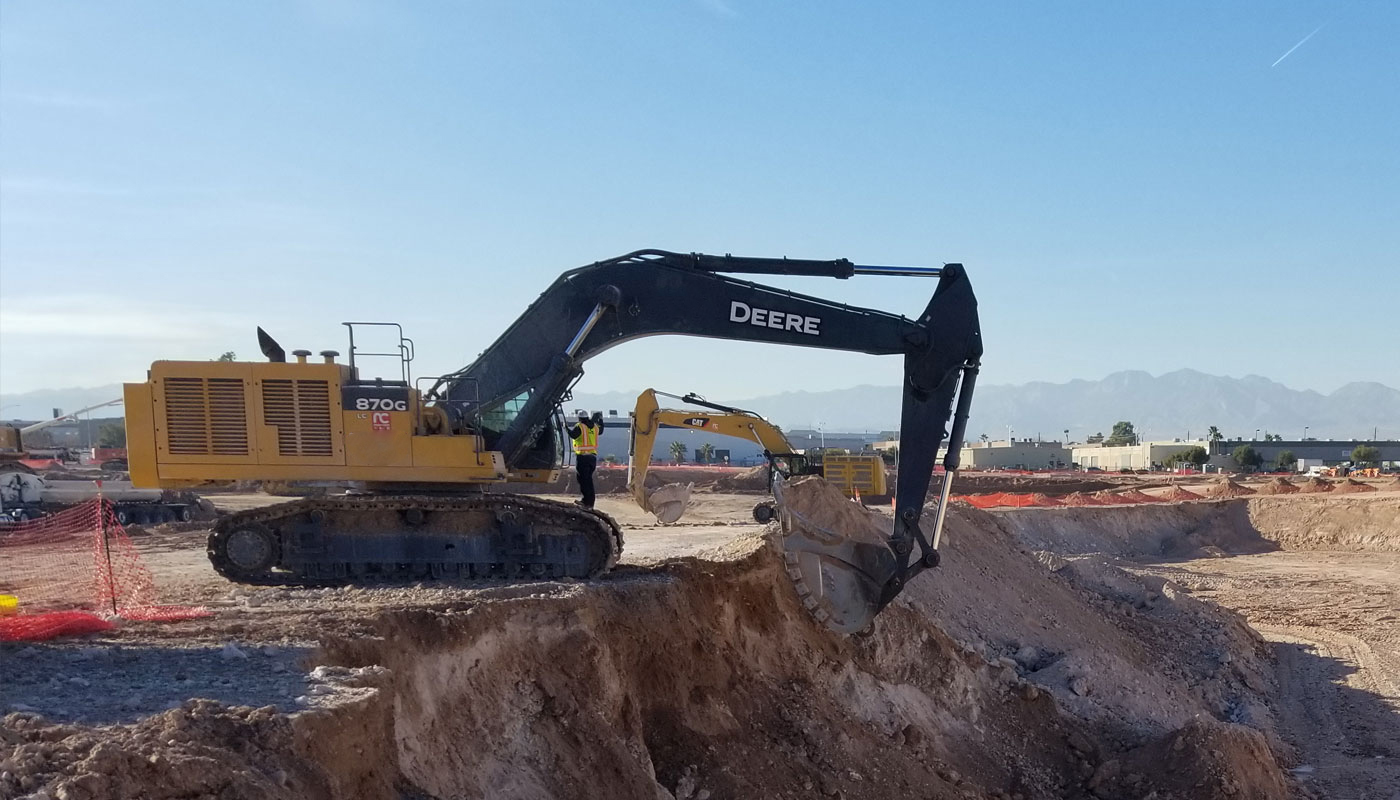 From trench rollers to excavators and everything in between, our rental fleet includes nearly two dozen categories of equipment.
Excavators
Dozers
Dump trucks
Wheel loaders
Track skid steers
Cranes
Compaction rollers
Reach forklifts
Light towers
Water pulls
Motor graders
And more!
Click here to view our complete inventory listing.
---
Reliable service from experienced professionals
Our team of friendly rental coordinators are available 24/7 to help you through each step of the rental process. Whether you need a small plate compactor or a D10 dozer, we make it easy and convenient to rent construction equipment for every job—big or small.
Our services include:
Heavy equipment rentals
Attachment rentals
Transportation
Regular machine maintenance and repairs
24/7 customer care—Call us toll-free any day of the week
---
Renting Equipment throughout the Southwest
Our growing team has over 65 years of experience in the heavy equipment rental industry. This experience and dedication to delivering top-notch machinery has helped us expand our service areas to include all of Nevada, Utah and Arizona. For our customers' convenience, we provide rental equipment in Elko, Salt Lake City, Boise and several cities across the Southwest United States.
---
The Heavy Metal Equipment Difference
24/7 customer care — Got a question or concern? Our reps are available around the clock to meet the needs of our customers. Whether you have a question about your rental agreement or need maintenance on one your machines, we're only a phone call away.
Personalized, on-site service — Did an engine check light come on? Do you need help operating one of our machines? Our team of experienced mechanics, techs and rental reps are available to drive to your jobsite and run maintenance checks and answer any questions you may have.
Regular check-ins with customers — We don't wait for you to call, we reach out to you first. Our reps regularly stop by jobsites to chat with customers and check in to see how they can be of service.
Reliable machines — We provide high-quality machines that have been equipped with advanced maintenance tech, ensuring our equipment remains at peak performance at all times.
Request a Quote Browse Inventory
---
Heavy Metal Equipment, LLC
2880 N. Nellis Blvd.
Las Vegas, NV 89115
Direct: (702) 718-0088

Toll Free (24/7 Support):
1-800-712-4190

Hours: Mon - Fri / 7am - 5pm