About Us
The 7 Types of Excavators: Which One Should You Choose?
By Reannon Muth on Jun 6, 2019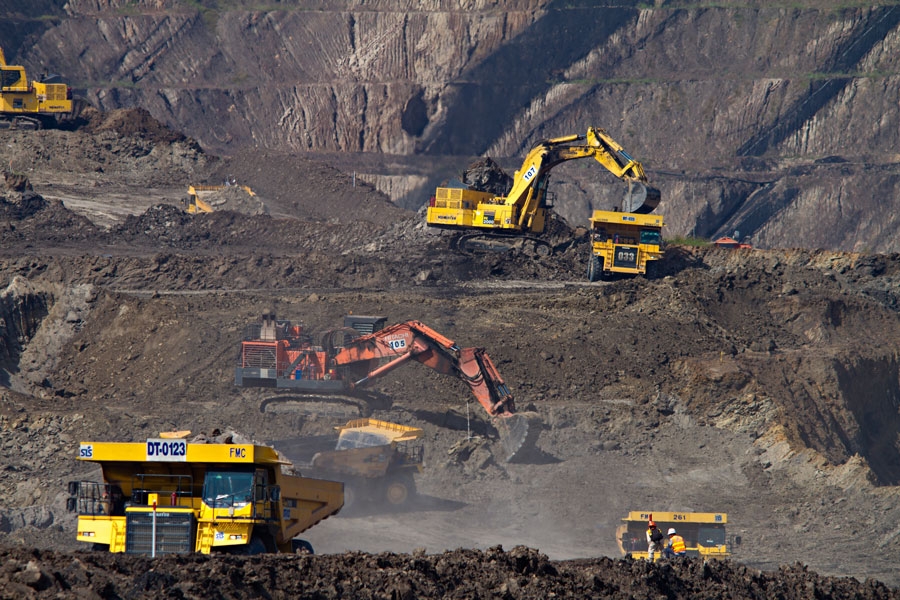 Whether you're planning on renting or purchasing an excavator, it's important that you go into the shopping process with an understanding of the various types of excavators, their capabilities and their shortcomings.
Excavators are earthmoving vehicles easily identifiable by their arm, bucket, rotating cab and moveable tracks. The biggest differentiating factor between the various models is their size, as size often correlates with range of mobility and lift and dig capacity. Caterpillar's smallest mini-excavator, for instance, weighs just 2,070 pounds and has 13 hp whereas their largest is the CAT 6090, which weighs a record-breaking 2,160,501 pounds and has 4,500 hp. 
The type of excavator you'll need will vary depending on the working conditions and requirements of the job. Will you be needing to dig in the ocean? A dragline excavator or long reach excavator may be your best choice. Will you be working on hilly terrain? Then your best choice may be a crawler.
Below we outline seven different types of excavators and their various uses.
1. Crawler Excavators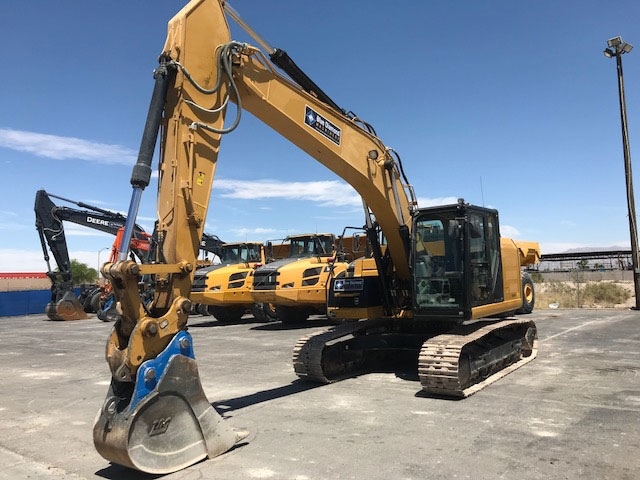 Use for: Mining, landscape grading and trench digging.
Pros: Good for uneven terrain.
Cons: It's slower than a wheeled excavator.
The crawler excavator (also referred to as the standard excavator) is called a crawler because it runs on two rotating tracks instead of wheels—in much the same way a tank does. The crawler uses hydraulic power and although it's slower than a wheeled excavator, its tracked chassis makes it more stable. This is what makes the crawler excavator a good choice for steep, rough or muddy landscapes—The chain wheel system allows it to balance better on uneven terrain.
2. Wheeled Excavators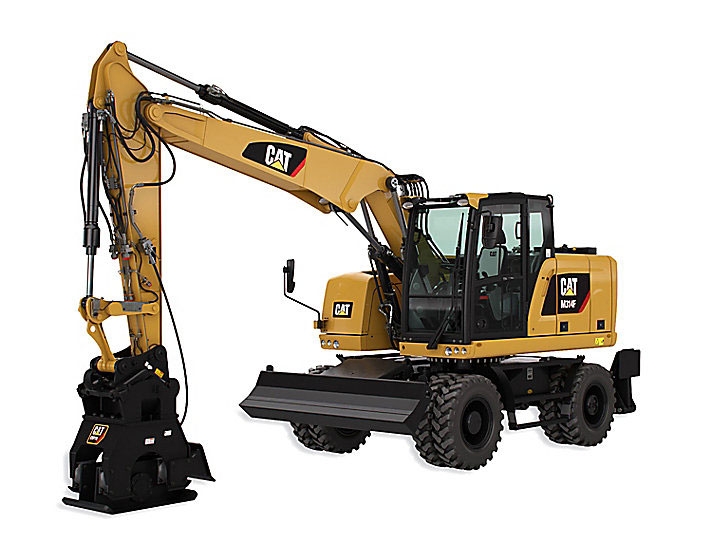 Use for: Jobs on flat/hard surfaces.
Pros: It's fast and easy to move on concrete.
Cons: It won't work well in muddy or hilly terrain.
The wheeled excavator is like the crawler (standard) excavator, but, like the name suggests, it has wheels instead of tracks. Because the wheeled excavator has less traction than the standard, it's best used on asphalt or concrete.
While the wheeled excavator is not suited for sites with soft soil or hills and slopes,  it's faster than a crawler when operated on a smooth, hard surface. It's also easier to maneuver.
3. Suction Excavators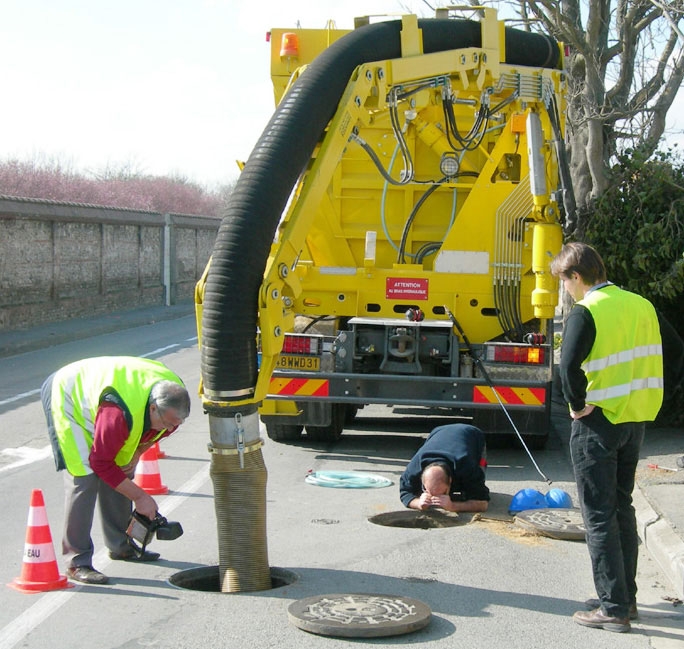 Use for: Fragile digging jobs, debris cleanup and underground projects.
Pros: Lessens the chance of damaging the surrounding area or underground utilities.
Cons: The suction pipe is usually only 30 centimeters (one foot) or less in diameter, making it not applicable for large-scale projects.
Also called vacuum excavators, suction excavators include a suction pipe that functions as a high pressure-vacuum. Working in tandem with a built-in water jet, the suction system sucks up soil and debris fast - at speeds of 200 miles per hour.
Construction companies often utilize suction excavators for jobs that require careful and precise excavating, as a suction excavator can cut the chance of area damage in half.
4. Long Reach Excavators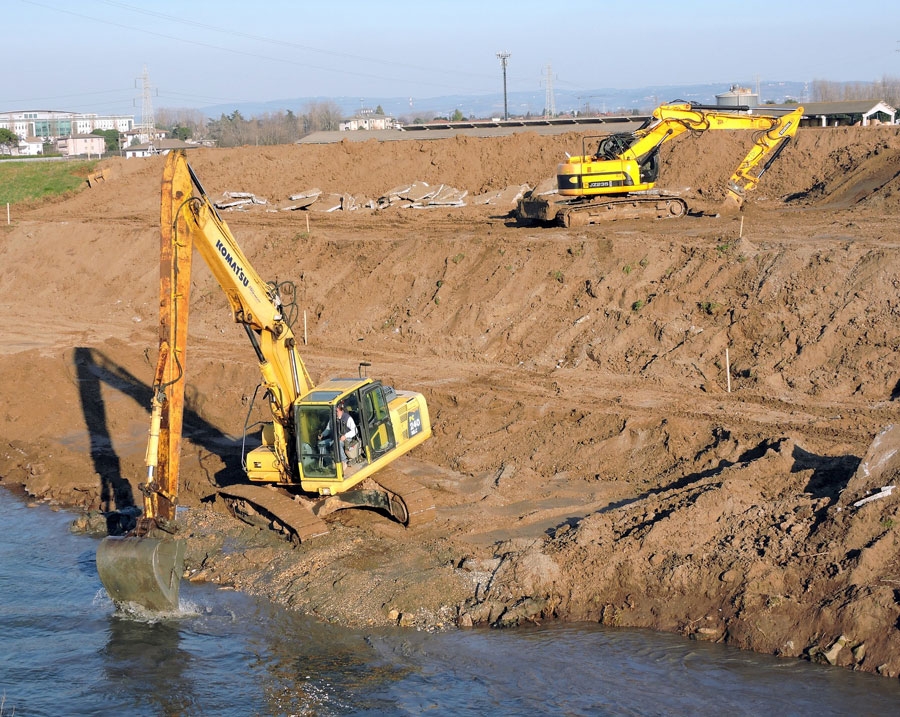 Use for: Hard-to-reach areas.
Pros: It has a long extendable arm, which makes it easier to excavate from a safe distance.
Cons: The long arm makes it impossible to excavate in tight spaces.
Like the name suggests, the long reach excavator has a lengthy arm and boom. The long reach excavator's extendable arm has a range of 40 to 100 feet, making it possible to reach construction zones that are over 100 feet away horizontally.
This type of excavator is made for jobs where the terrain or construction site prevents the machine and operator from getting too close, such as demolition projects that are over a river or lake.
5. Hydraulic Shovels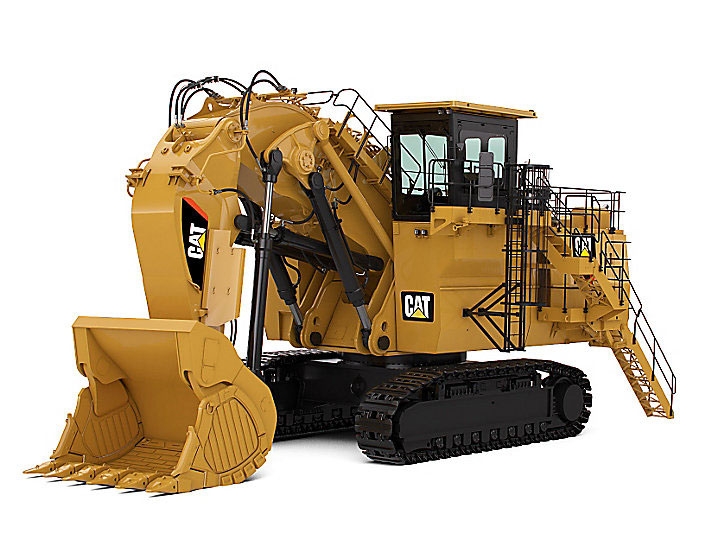 Use for: Mining and heavy digging projects.
Pros: It has a powerful engine and large bucket capacity.
Cons: It's larger than necessary for many jobs.
Also called power shovels, the hydraulic shovel is the most powerful type of excavator. While it's most commonly used for mining projects, the hydraulic shovel is suited to handle any job that requires heavy lifting and hauling of large rocks, minerals and other heavy objects or materials.
6. Dragline Excavators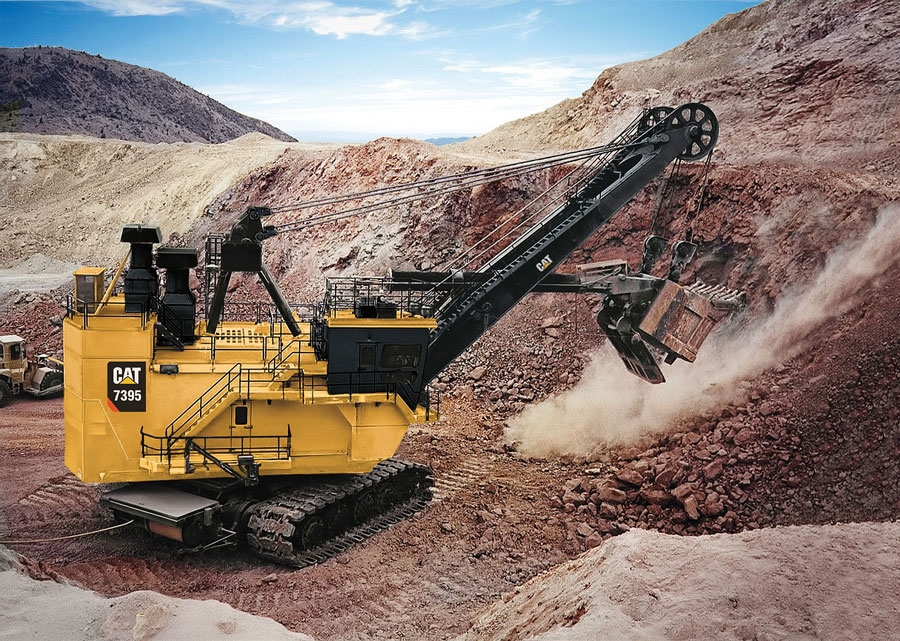 Use for: Deep pile driving, harbor construction, surface mining, deep excavation, road excavator and under-water operations.
Pros: Dragline excavators have a digging depth of 65 meters (213 feet) or more.
Cons: Its large size and inflexible system make it only useable for specific jobs.
The dragline excavator is larger than the standard. More importantly, it operates differently. The dragline uses a hoist rope system and a dragline to raise and lower the bucket and drag it toward the driver.
This hoist/dragline system make this excavator ideal for excavating underwater.
7. Skid Steers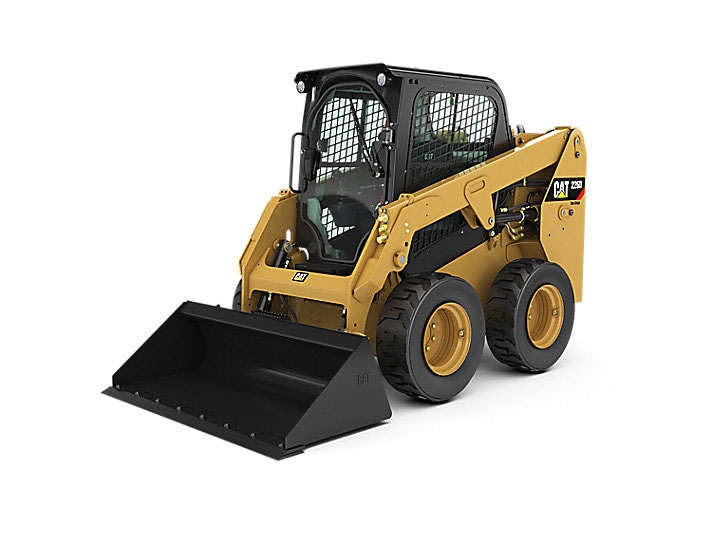 Use for: Site clearing, debris removal and pool clearing.
Pros: Its small size makes it ideal for narrow areas or job sites with limited space.
Cons: Because a skid steer is on wheels instead of a track, it may not perform well on uneven or muddy, sandy or snowy terrain.
The biggest difference between a skid steer and a standard excavator is that with a skid steer, the boom and bucket faces away from the driver.
Skid steers are frequently used for small projects and residential work.
Excavator Attachments and Parts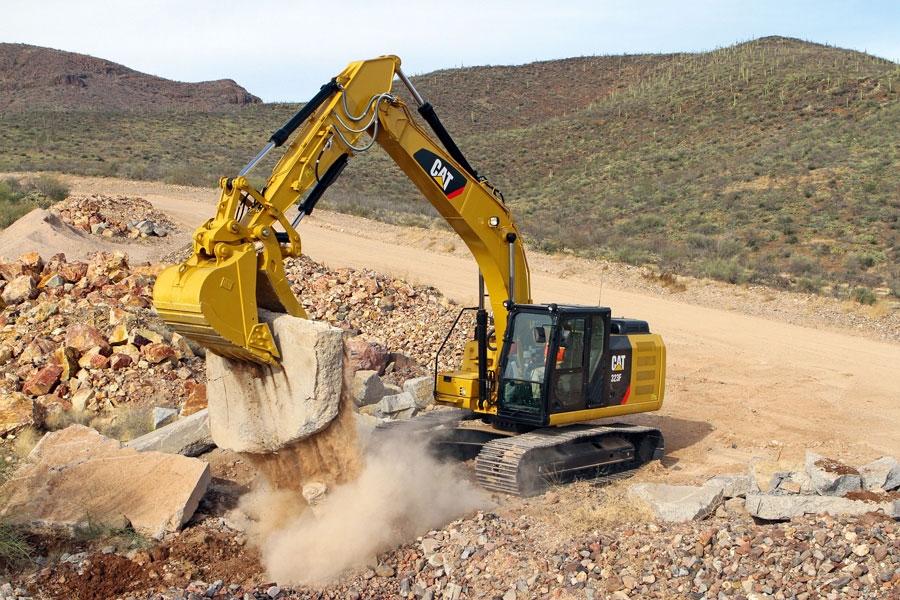 Excavators can be altered to suit the needs of a particular job by switching out the attachments. Some of the common hydraulic attachments are: buckets, augers, breakers, thumbs and couplers.
Below is an explanation of each.
Bucket
Buckets are the most common excavator attachment. Their steel body and teeth-like edges make them ideal for digging and scooping. The most common type of buckets are the ones used for grading stones (the ditching bucket) and the ones used for digging trenches (the trenching bucket). When deciding which type of bucket to purchase or rent, it's important to consider the soil condition and what accessories you may need, like couplers, for instance.
Auger

Augers are an attachment used to drill into the ground. Powered by hydraulic circuits, they are fast and efficient at digging deep holes. Augers range in size between 4 inches to 50 inches in length and can dig up to 32 feet.
Breaker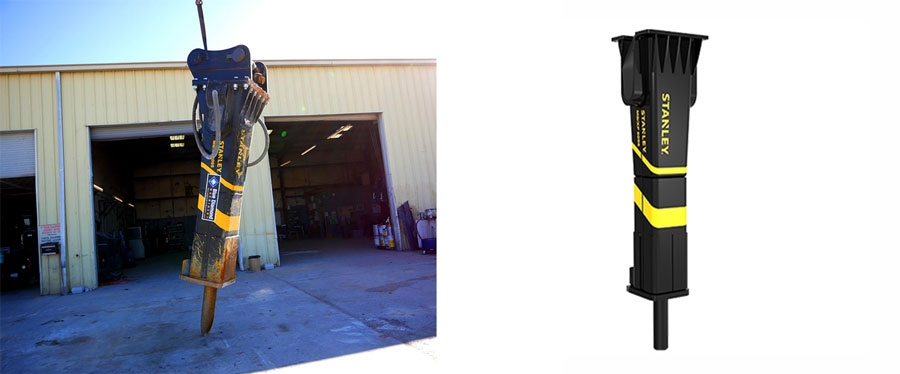 Breakers are like a larger version of a jackhammer and are ideal for hammering through stone, rocks and concrete.
Thumb
Thumbs work well for items that are too large for a bucket—like a tree stump or slab of concrete, for example. They're easy to attach and detach.
Couplers

Couplers make it easier and faster to swap out attachments. If a job requires frequent attachment changes, a coupler can help to save time, money and manpower.
The Difference between an Excavator and a Backhoe

Other than size, the biggest differences between an excavator and a backhoe is the rotation capability. Excavators can rotate a full 360 degrees whereas backhoes (diggers) can only rotate 200 degrees (left and right).
Generally speaking, excavators are used for robust, substantial jobs and backhoes are used for jobs requiring light to medium work.
The Difference between a Standard Excavator and a Mini Excavator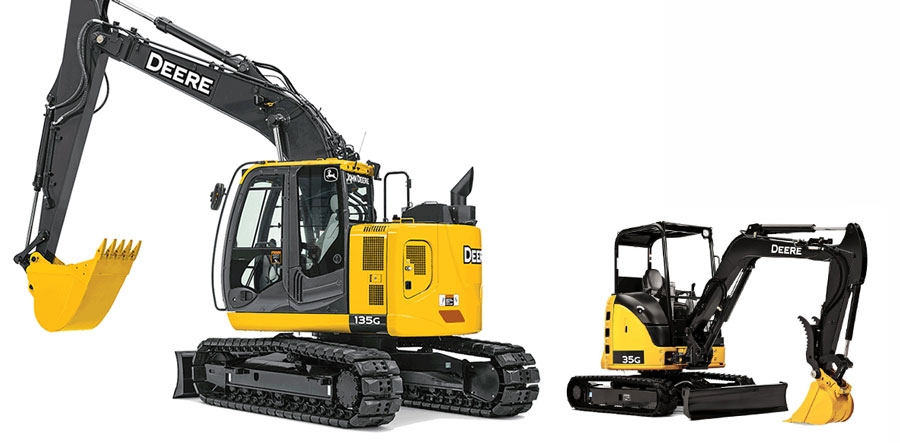 Size—The mini excavator (also called the compact excavator) is smaller than the standard excavator.
Control—The mini excavator also has a reduced tail-swing or even a zero tail-swing, which makes it easier to make tight turns and maneuver in small, cramped or narrow job sites, like parking lots, for instance.
Undercarriage—Compact excavators have a narrower undercarriage that can frequently be further compacted when the operator needs to move the excavator through tight spaces, like doorways or gates.
Weight—A mini excavator weighs less than a standard excavator, which makes it easier to transport between sites. A mini excavator also requires less fuel.
When to Use a Mini Excavator:
It's crucial to use a mini excavator whenever there's a remote possibility an excavator may hit a wall, car, machine or other obstacle, as this can not only damage the obstacle but also the excavator itself.
Information You'll Need to Know Before You Choose an Excavator: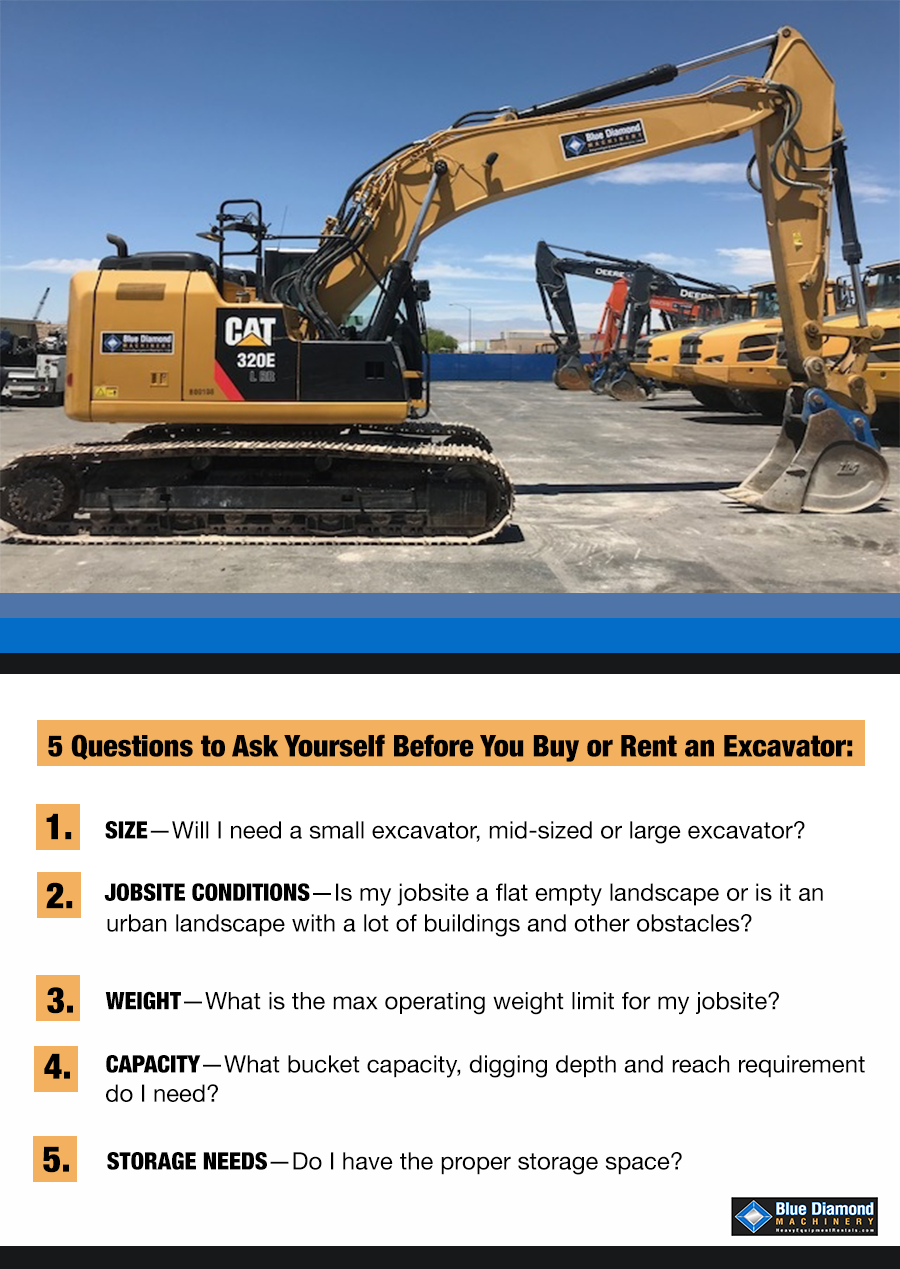 The following is a list of information you'll want to have on hand when you call your equipment rental or sales company in order to ensure you have the right excavator for the job.
Machine size—The excavator size you'll need will depend on the weight of the materials you'll be lifting. A mini (or compact) excavator can handle up to six metric tons (or 13,227 pounds). A mid-sized excavator handles 6-10 metric tons (or 22,046 pounds) and the standard (or full-size) excavator is equipped to lift up to 10 - 90 metric tons (or 22,046 - 198,416 pounds).  
Conditions of your jobsite—Is your jobsite a flat, empty landscape? Or is it an urban area with a lot of buildings and other obstacles? The terrain will determine which type of machine and attachments you'll need to complete the job efficiently and safely.
Weight—You'll want to know the excavator's maximum operating weight. The last thing you want is an excavator that's too heavy, as this could damage your site.
Bucket capacity, digging depth and reach—Different buckets can handle different weights. You'll want to make sure the excavator you choose can handle the size of bucket your job requires. Your digging depth and length requirements will help determine excavator size and attachment type.
Storage availability—The last item on this list mainly applies if you're purchasing an excavator. Depending on where your company is located, you may need an indoor storage facility to house the excavator during frigid, stormy or excessively rainy weather. 
Should you buy or rent an excavator? Two things to consider:
We've written about this thoroughly in our guide, Renting vs Buying Heavy Machinery: Which Should You Choose?, but here are two of the more important factors to consider.
Current financial situation—When purchasing an excavator, you'll either need a sizeable amount of cash or decent credit that you can use to secure a loan. Keep in mind that while a purchase may require a larger upfront cost, it could save you money over time, especially if you plan on using the machine frequently. Rental fees can add up fast.
Job frequency - How often will you require the machine? Run the numbers to see which options works best for your business, but the general rule of thumb is this: If you use the machine more than 65% of the time then you should buy. If you use it less than 65% (or less than eight months in a year), then you should rent.
Other factors to consider when deciding whether to rent or buy are the possible tax advantages of buying as well as the potential return on investment - You can always sell the excavator when you're finished in order to recoup your costs.
Rent, Buy or Sell—Heavy Metal Equipment Can Help
Heavy Metal Equipment offers a variety of name-brand construction and landscaping equipment at affordable prices, servicing commercial construction companies across Nevada, Utah and Idaho. Whether you're looking to rent, buy or even sell, our growing team has over 65 years in the construction industry, and can use that expertise to help meet your heavy equipment needs. Our company motto is: "Giving our best for your success."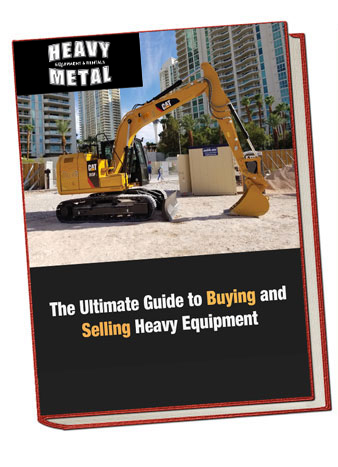 FREE

Guide to Buying and Selling Heavy Equipment

Enter your details to receive our complimentary ebook