About Us
Tips for Buying an Excavator: 6 Things to Check Before You Purchase
By Reannon Muth on Jan 31, 2019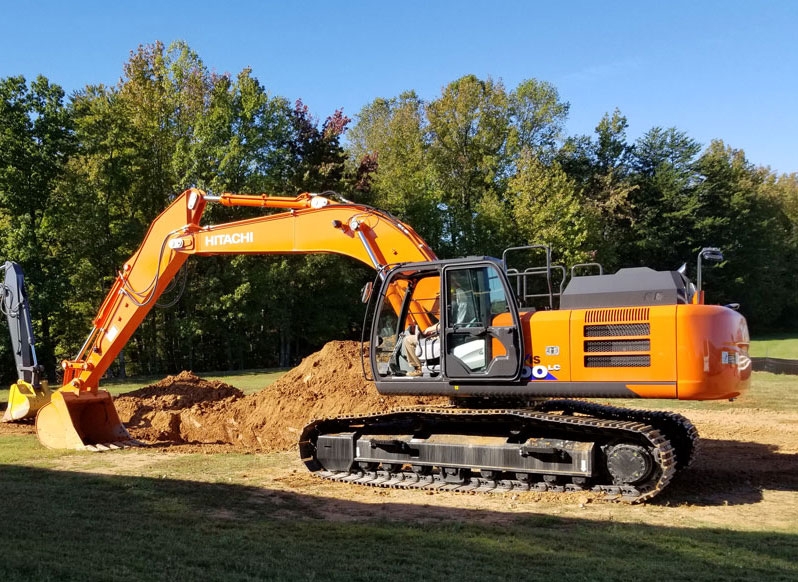 Whether buying an excavator new or used, it's important to do your homework beforehand so that you can make an informed purchasing decision. Below are several questions to ask yourself as well as an inspection checklist to use when examining the excavator for damage or excessive wear.
1. What will you need the machine for?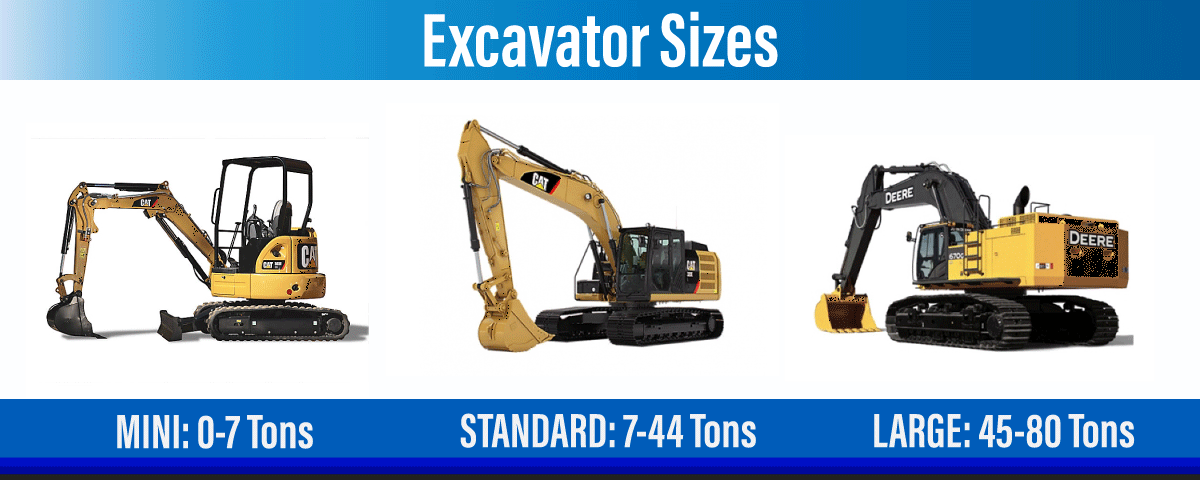 Excavators are grouped into three sizes (0-7 metric tons), standard (7-44 tons) and large (45-80 tons). Before you contact a seller, know the spec requirements for the job, as this will help you determine the size of machine you'll need. You'll also need to consider ahead of time whether or not you'll need any support attachments, such as couplers, rippers and hammers.
2. Do you have a trailer?
In addition to ensuring you have a trailer that is equipped to transport your excavator, you'll also need to make sure your drivers have the correct certification and that your trailer will be able to maneuver successfully to and from your jobsite. Certain roads and bridges, for example, may not allow oversized loads. What's more, these are all added expenses that you'll need to factor in when budgeting for your purchase. 
3. Do you trust the dealer?
It's wise to develop a long-term relationship with a dealer, particularly if you foresee needing to make any construction equipment purchases, rentals or repairs in the future. It's important that the heavy equipment company you choose is not only knowledgeable, but dependable and ethical as well.
6 Things to Check Before You Buy: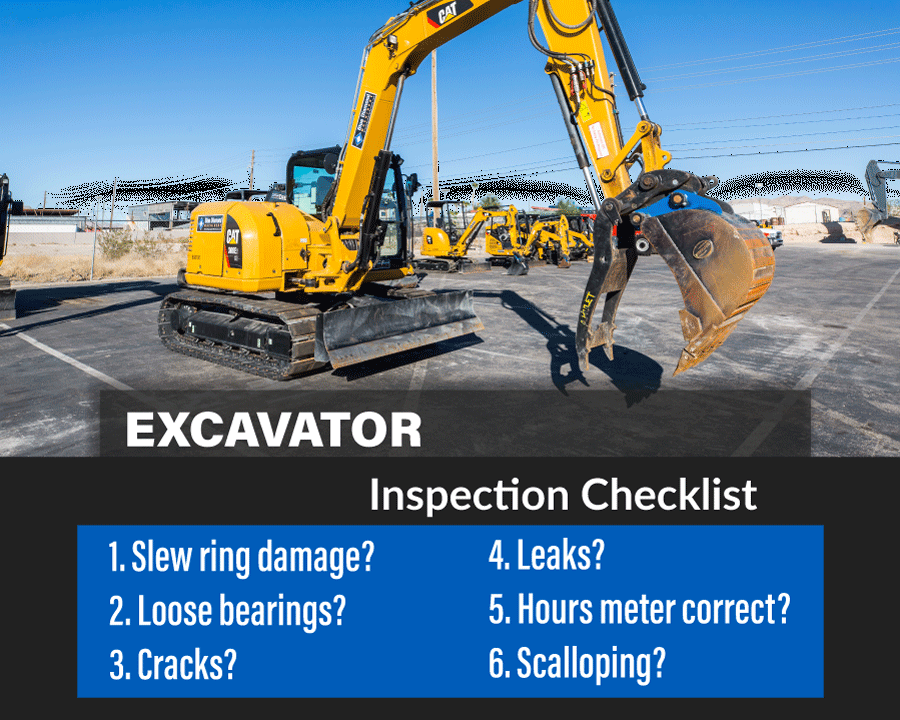 In a perfect world, you wouldn't need to make an equipment inspection at all, and would be able to make a purchase sight unseen. But in the real world, even the most reputable and honest construction equipment sellers can sometimes make mistakes and overlook a major malfunction. Whether you are purchasing a new excavator or one with years of clocked operating hours, it's vital you conduct a thorough and careful inspection before making a purchasing agreement.
Here are a few tips to get you started:
1. Check the slew ring for damage
Slew rings are some of the most expensive items to replace or repair, so it's important that you ensure the slew ring in your hydraulic excavator hasn't been damaged before you sign the purchasing paperwork. This is particularly important if you're purchasing a used excavator, as poor machine maintenance—such as insufficient lubrication or overloading—can lead to early slew ring failure. 
During your inspection, make sure to:
Rotate the housing to a quarter turn and check for any play or movement.
2. Check for loose connections in the boom, stick and bucket
Pins and bearings should be tight, especially in the excavator stick and bucket connection points. It's important to check this, as any looseness, play or movement in the excavator's connection points could affect the machine's accuracy.
3. Inspect for cracks and bends
Check for any cracks or dents in the excavator, particularly in the following areas:
The boom and stick - Check for cracks in the connection point welds between the boom and stick and the stick and the bucket. If you spot any cracks, know this could be a sign that the boom or stick will need to be replaced.
Undercarriage - Note any dents or damage in the excavator's undercarriage, as this likely means the machine wasn't used as recommended. The operator may have been careless or the machine may have been in an accident. Either way, this could be a sign of internal damage. 
4. Look for leaks
Inspect the hydraulic pump compartment for leaks.This should include inspecting the hoses, cylinders and lines.
5. Double check the hours meter
If you have any question about the hours meter reading, check the control pedals. If you note wear that seems excessive, this could mean that the meter is broken or has been altered and that the machine has logged more hours than the meter is displaying. 
6. Examine the bucket teeth for scalloping
Scalloping (wear that occurs between the bucket teeth, in the shape of half moons) indicates that the excavator has a reduced cutting force. While this occurs normally over time and doesn't necessarily mean that the bucket needs to be replaced, it is something to consider when evaluating the overall value of the machine. 
---
About Heavy Metal Equipment: Heavy Metal Equipment is an independently-owned construction equipment company in Las Vegas that rents and sells heavy equipment. Heavy Metal Equipment currently services Nevada, Utah and Idaho. To learn more, visit www.bluediamondmachinery.com.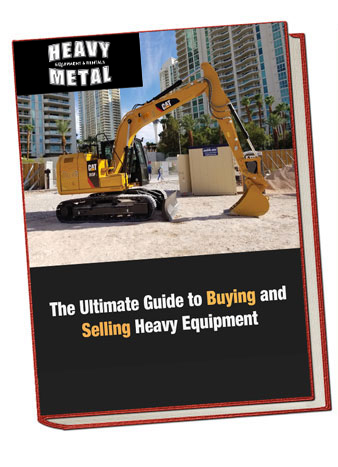 FREE

Guide to Buying and Selling Heavy Equipment

Enter your details to receive our complimentary ebook