About Us
The 3 Most Common Types of Dozers
By Reannon Muth on Oct 14, 2019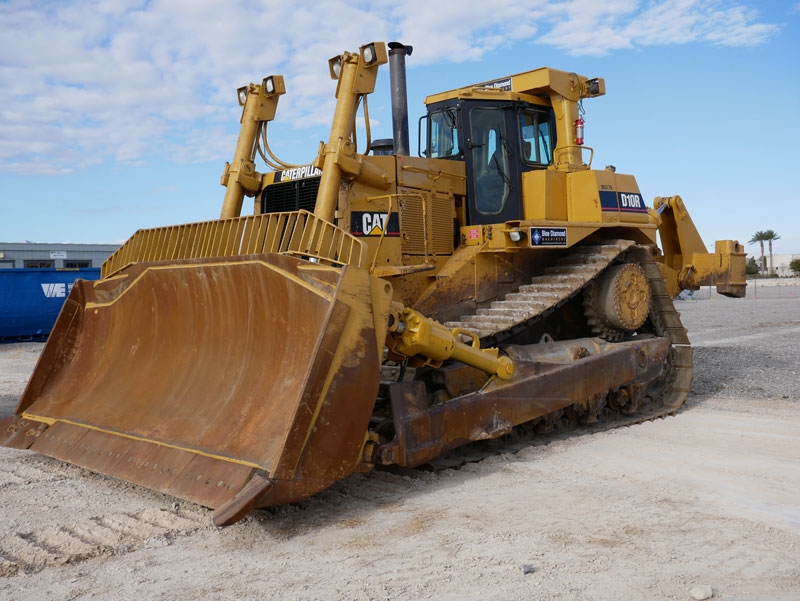 "What type of bulldozer should I rent?" is a question we frequently hear from customers, so we decided to create a detailed guide in order to help people ascertain which bulldozer is best suited for their particular project. Below is a summary of the three types of bulldozers and a description of their various uses. We hope you find this guide helpful.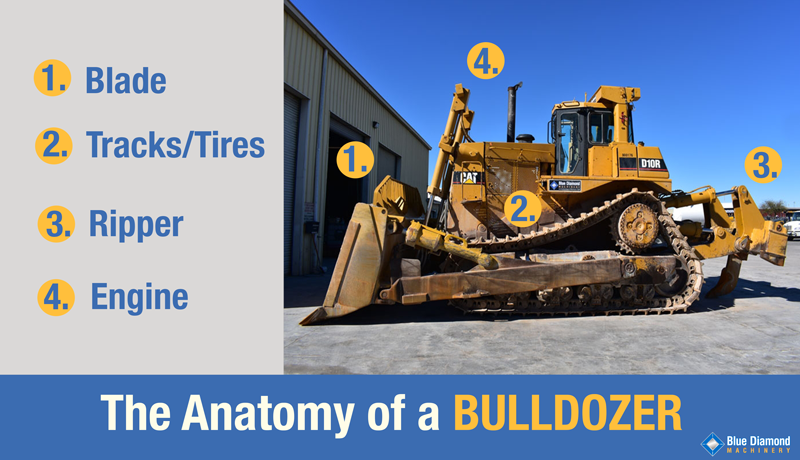 What are Bulldozers Used For?
Before we begin to look at the types of dozers, let's first look at a definition of what a bulldozer is (and isn't). A bulldozer is a continuous-tracked or wheeled tractor recognizable by the metal plate attached at the front of the machine (called a blade). Bulldozers are used to push and excavate dirt and debris at a construction site or mining quarry. They're also used to backfill trenches, clear and level land and maintain roads. Although a bulldozer can help in the grading process, for projects that require detailed grading, a motor grader is probably better suited. 
How to Choose the Right Dozer for Your Project:
There are several factors you should consider before renting or purchasing a bulldozer. They include:
Type of terrain the machine will be working in
The specifics of the project
The size of the work space 
The type of material you'll be moving
The Three Types of Dozers

1. Wheel Dozer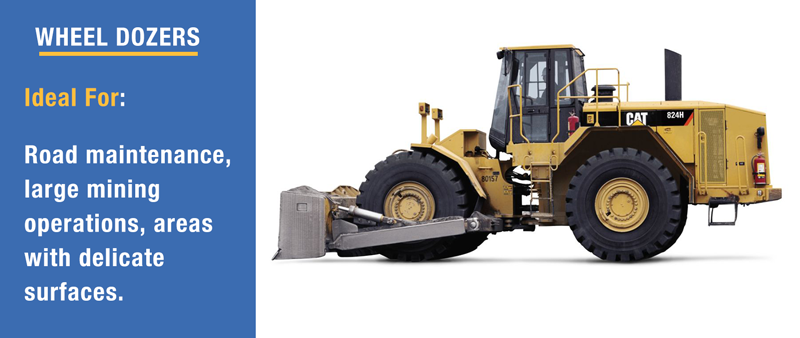 Benefits: The wheel dozer's tires make it easier to move and turn.
Like the name suggests, a wheel bulldozer has wheels instead of tracks. A wheel dozer is an ideal choice for projects that require work in soft ground or sensitive surfaces, because tires inflict less disturbance on a surface than a track typically does. A wheel dozer is also a good choice for projects that require mobility and versatility. 
The wheel dozer is generally bigger than a tracked dozer and it has articulated hydraulic steering and moves on a smaller axis. 
2. Crawler Dozer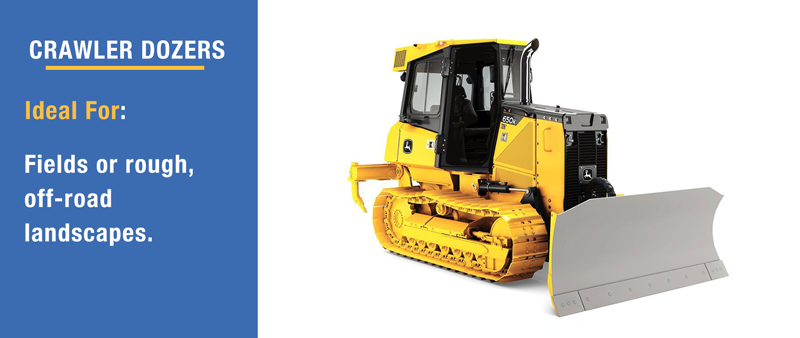 Benefits: The crawler dozer's tracks make it ideal for jobsites that have irregular or uneven terrain
The crawler dozer is the most common dozer, recognized by its tracks and the ripper at the back. Because the crawler (or track bulldozer) has tracks, it is well suited for terrain that requires traction (like muddy or slippery surfaces). 
Crawler dozers can range in size from machines with 75 horsepower that are less than 20,000 pounds and those with 900 horsepower that weigh almost 240,000 pounds.
3. Mini Bulldozer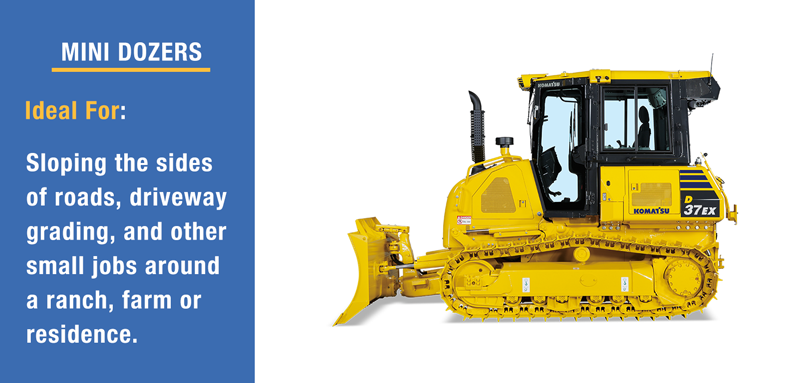 Benefits: The mini bulldozer's small size makes it easy to maneuver around narrow jobsites.
The mini bulldozer—also called a compact bulldozer—is ideal for narrow areas or small lots, like driveways. Similar to the mini excavator, the mini bulldozer is smaller than a standard-sized bulldozer. 
Types of Blades:
It is not enough to know the type of dozer you'll need—you'll need to have a general idea of the type blade you'll need as well. The type of dozer blade attachment you should rent or buy will mainly depend on the type of material you'll be moving. Below are details on the five common types of dozer blades.
Straight Blades (S-Blade)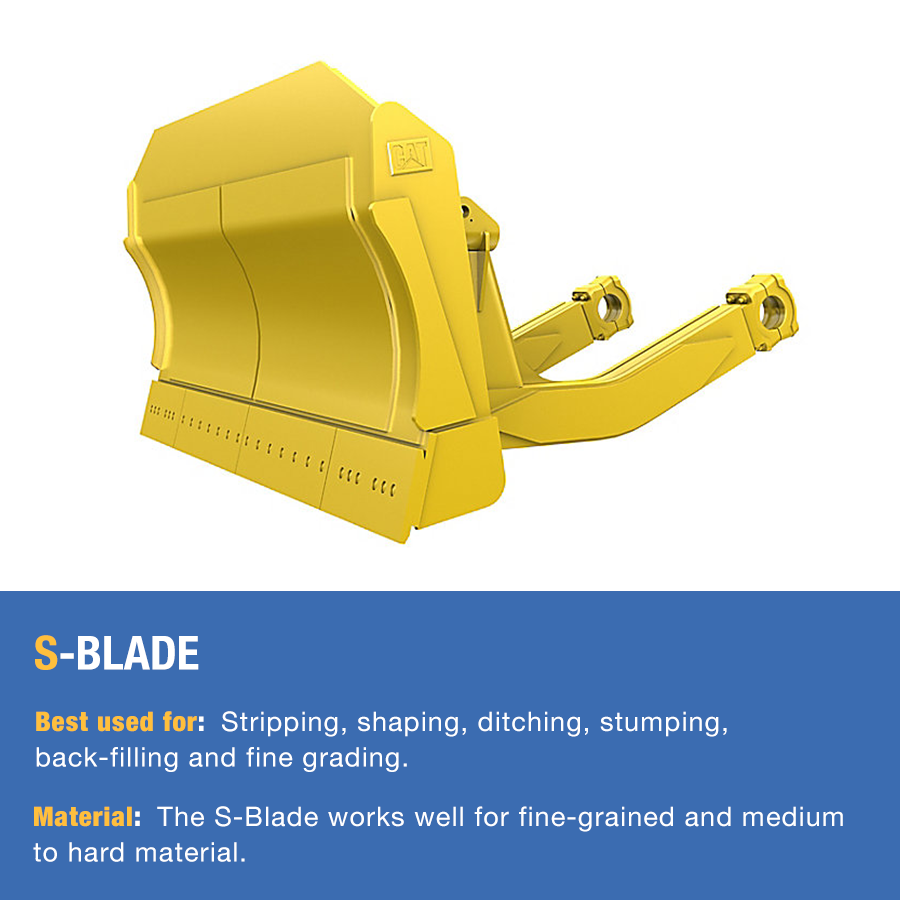 The S-Blade is straight, which means that its ability to lift and carry is more limited than other blades. It does not have side wings and is the shortest type of blade.
The blade's heavy weight and straight edge are what help make it the ideal choice for projects that require fine-grained material.
U-Blade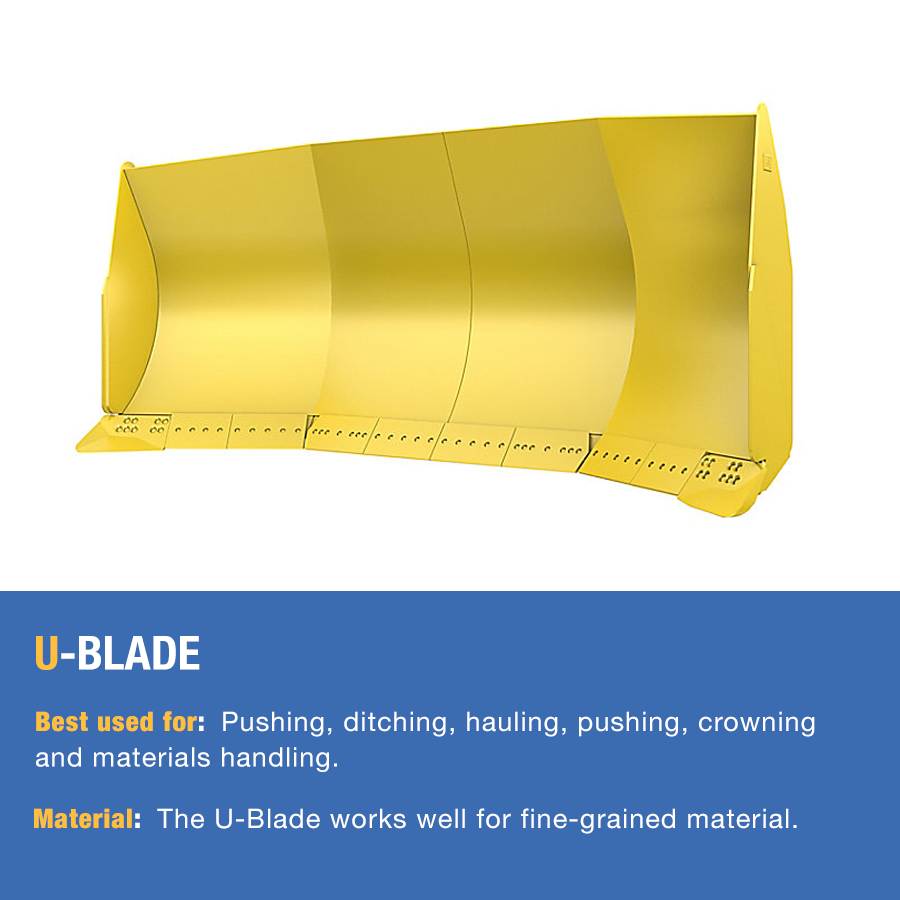 The U-Blade has large side wings and a curved design. It's ideal for pushing material across large expanses of land. It has the largest height and width of all the blade types.  
S-U Blade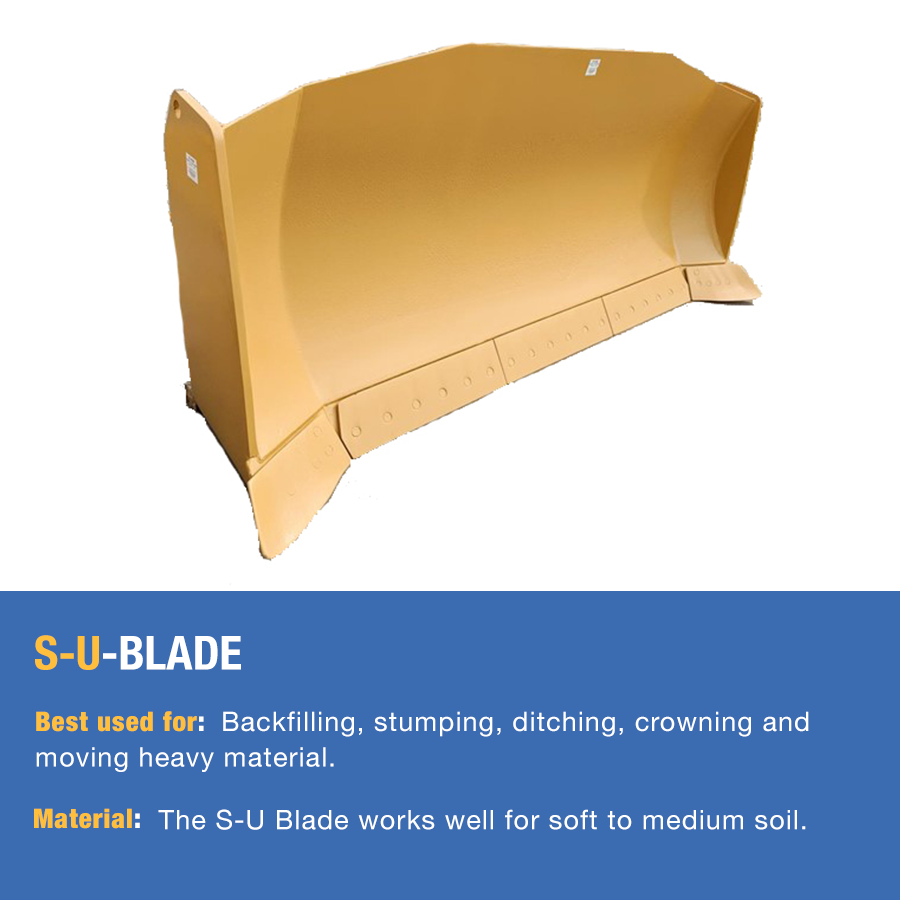 Like the name suggests, the S-U blade is a combination of the S blade and the U blade, making it more versatile and stronger as a result.
Compared to a U-blade, the S-U blade has a narrower shape and is less curved. Its side wings are also smaller.
Angle Blade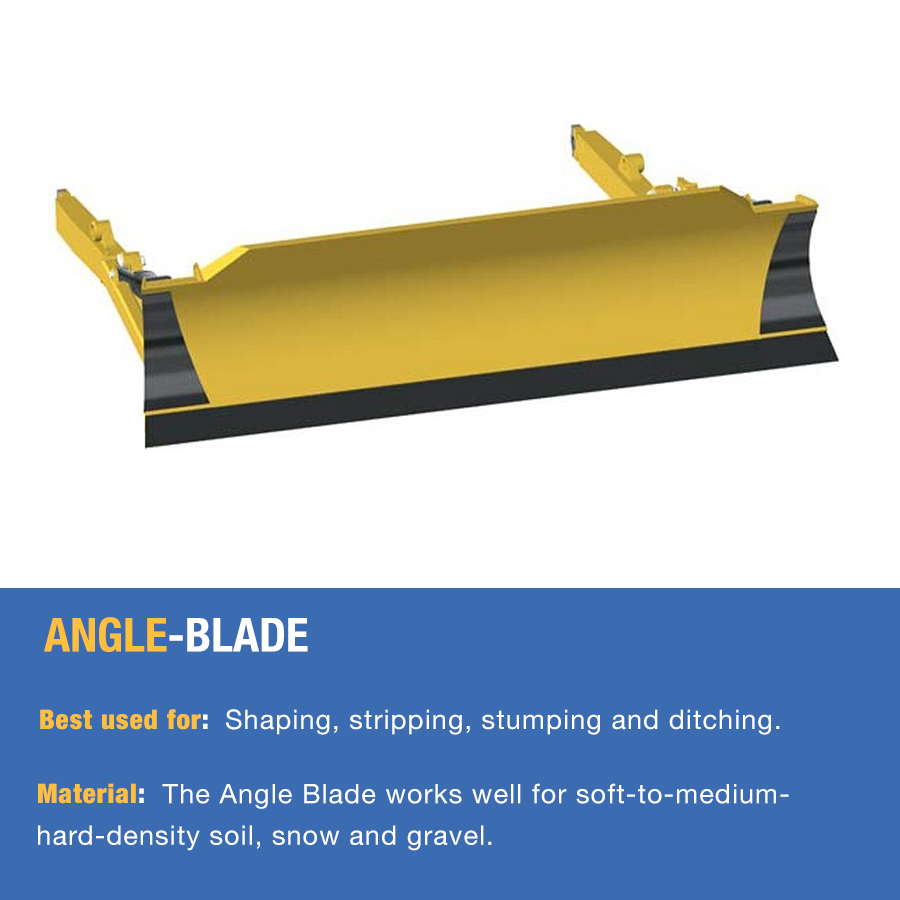 Because the angle blade can angle nearly 30 degrees left or right, this two-way blade is ideal for moving debris to the side. It does not have wings, however, which means that it can spill.
Power-Angle-Tilt (PAT) Blade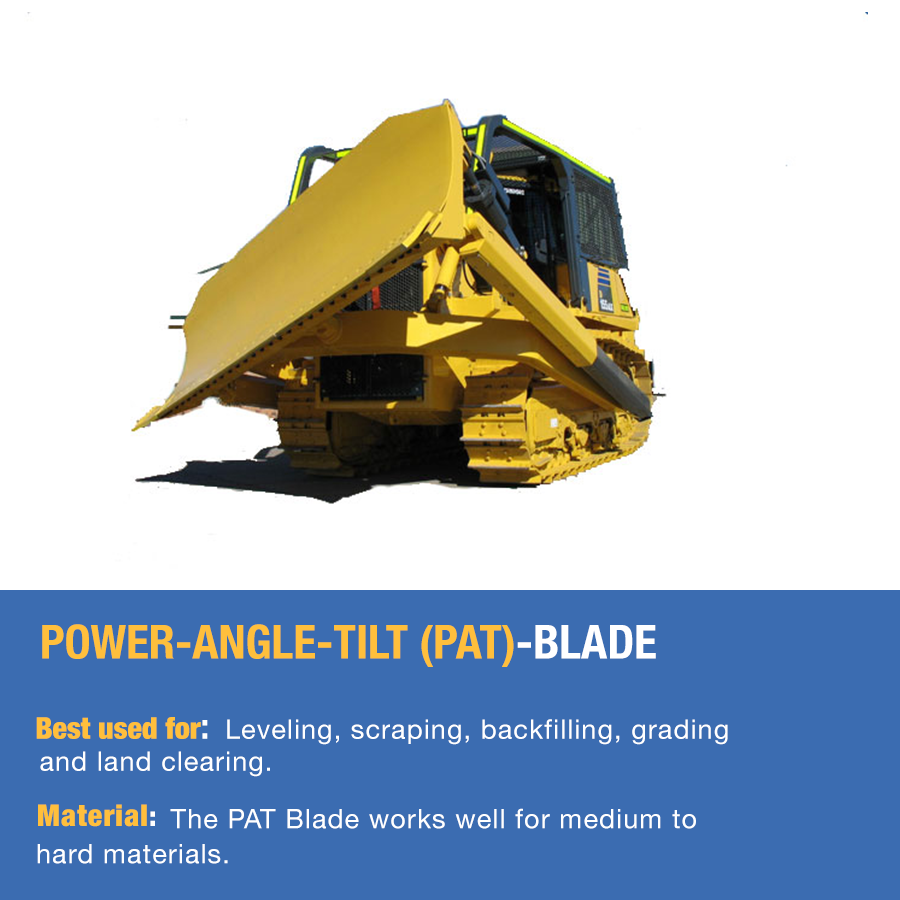 The PAT blade is the most versatile of the dozer blades. It can angle and tilt in nearly every direction. The versatility in movement makes it ideal for spreading soil and clearing debris. 
Looking to Rent a Bulldozer?
We can help. We rent and sell bulldozers in Nevada, Utah, Idaho and across the American Southwest. Call 24/7 to speak with one of our knowledgeable rental coordinators—they're always happy to help answer whatever questions you may have—or visit our bulldozer rental page to view machine spec details.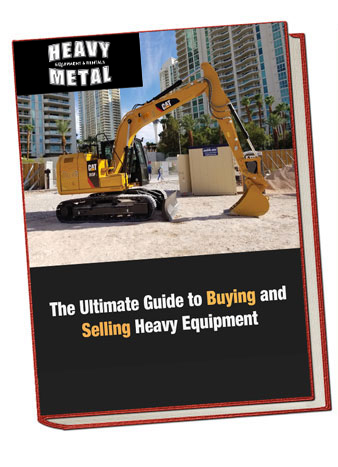 FREE

Guide to Buying and Selling Heavy Equipment

Enter your details to receive our complimentary ebook