About Us
9 Vital Questions to Ask When Renting Heavy Equipment
By Reannon Muth on May 29, 2019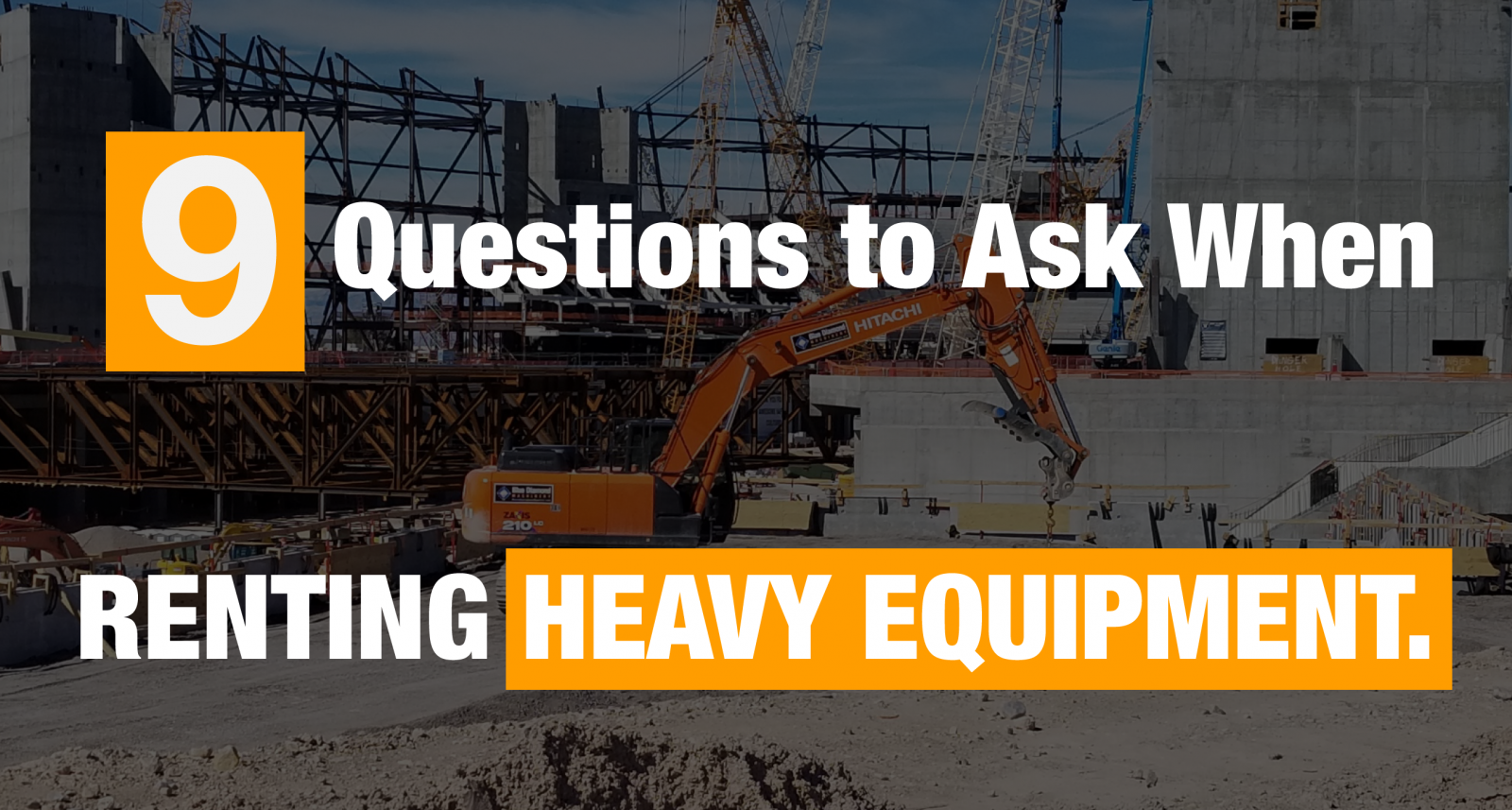 You've weighed the pros and cons of renting versus buying heavy equipment and you've made the decision to rent. That's great. But before you sign any paperwork with a heavy equipment rental company, it's important to be informed of all the fine print of a rental agreement to ensure you aren't hit with surprise fees or unexpected contract requirements down the line.
At Heavy Metal Equipment, our rental coordinators make sure each customer understands all the facts of the agreement upfront. They also take the time to carefully review each customer's specific needs in order to ensure they receive the right machine for the job. Not all equipment rental companies are as meticulous as we are, however, so we recommend construction companies take the time to ask the important questions.
1. What machines should I rent?
Even if you think you know the precise model of machine your job requires, it's always a good idea to double check with the heavy equipment rental manager. They may be aware of size and operation details that you aren't—details that could end up saving you money. The manager could, for example, recommend a smaller or less expensive machine than the one you'd thought you needed.
2. Will I need insurance?
You're required by law to have insurance coverage if you or a member of your staff wish to operate heavy machinery. Some rental companies will provide the insurance while others require the customer to provide proof of insurance coverage before an agreement is signed.
Heavy Metal Equipment requires customers to provide General Liability insurance.
3. How will the machine be transported to my site?
While you may have the trucks and manpower to transport the equipment to and from your jobsite yourself, you should enquire into having your heavy equipment rental company do it for you. This is a service that most equipment companies provide, and it will likely save you time and money.
At Heavy Metal Equipment, we have delivery trucks and professional drivers on staff. We also have partnerships with several transport companies.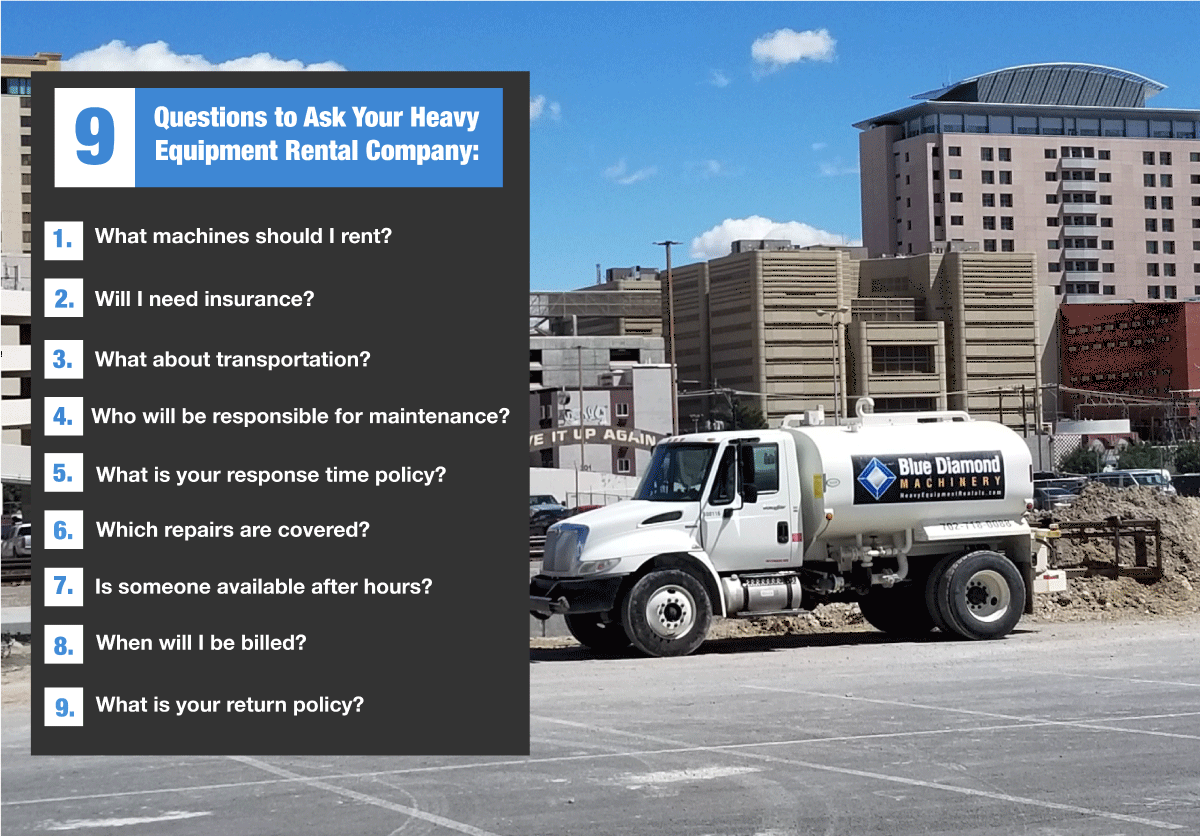 4. Who is responsible for equipment maintenance?
If you plan on renting equipment for longer than a week, you'll want to enquire about maintenance. Most equipment will need daily preventative maintenance in order to avoid machine downtime and repairs. Some heavy equipment rental companies prefer to take full ownership of all maintenance while others ask customers to perform the basic daily maintenance procedures themselves. You'll want to get a clear idea of the expectations in this matter so that you don't get stuck with a costly repair bill.
At Heavy Metal Equipment, we handle all of the regular, scheduled maintenance, but ask that our customers oversee the basic day-to-day maintenance, such as greasing and lubrication. We also ask that they conduct daily inspections of the equipment so that they can let us know immediately if anything needs to be serviced or repaired (Read: 3 Signs Your Heavy Equipment Needs Repairing (and What to Do About It). We will have a technician come to conduct a more thorough inspection if the situation warrants it.
5. What is the response time if the equipment malfunctions?
Even well-maintained machines break down, so it's important to know what your rental company's policy is when it comes to fixing (and covering the costs) of repairs. You'll want to make sure your equipment company will be able to send a mechanic out to your jobsite immediately should the need arise. You'll also want to ask if the rental company has access to replacement machines in case the one you've rented needs long-term repair work.
6. Which repairs are covered?­­­
Most construction equipment is built to handle tough terrain, but that doesn't mean that the machines are immune to damage. Damage that results from overuse or mishandling may not be covered in your rental agreement. You'll want to pinpoint which types of repairs aren't covered before you sign any paperwork. Damage to an undercarriage, for example, can be costly to repair.
If you plan on operating equipment on a steep hillside or in rocky, muddy, wet or snowy conditions, be sure to let the rental manager know ahead of time so that he or she can verify the equipment you're renting is equipped to handle the job.  
7. Is someone available after hours?
You'll want to confirm the heavy rental equipment company can give you an emergency number to call should your equipment malfunction outside of normal business hours. This is particularly important if your job requires early morning or late-night work, as most heavy equipment rental companies are only open between 7am and 5pm.
We're available 24/7 at Heavy Metal Equipment, should you have an emergency or need a question answered.
8. When will I be billed?
Some equipment companies bill weekly and some bill monthly. You'll want to make a note of when you can expect to be invoiced so that your company isn't scrambling to make payments at the last minute.
At Heavy Metal Equipment, we bill on a 28-day cycle.
9. What is your return policy?
It's likely that if you've asked all the questions above, you won't need to return your equipment. But occasionally the unexpected happens or you learn later that the equipment simply won't fit your needs. Ask your rental company about their return policy so that you're prepared to cover any related return costs.

Heavy Metal Equipment does not charge a fee for ending a rental contract early. If you need to return a machine sooner than expected, just call. We'll arrange the transport.
---
At Heavy Metal Equipment, we rent and sell a range of construction equipment, including excavators dozers, motor graders and forklifts. We invite you to browse our rental inventory listings. If you don't find something you're looking for, feel free to give us at a call at  1-800-712-4190.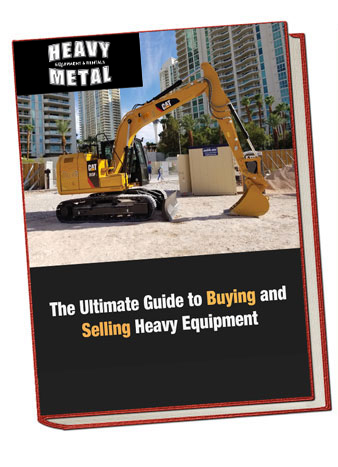 FREE

Guide to Buying and Selling Heavy Equipment

Enter your details to receive our complimentary ebook