About Us
9 Tips for Selling Heavy Equipment Online
By Reannon Muth on Aug 8, 2019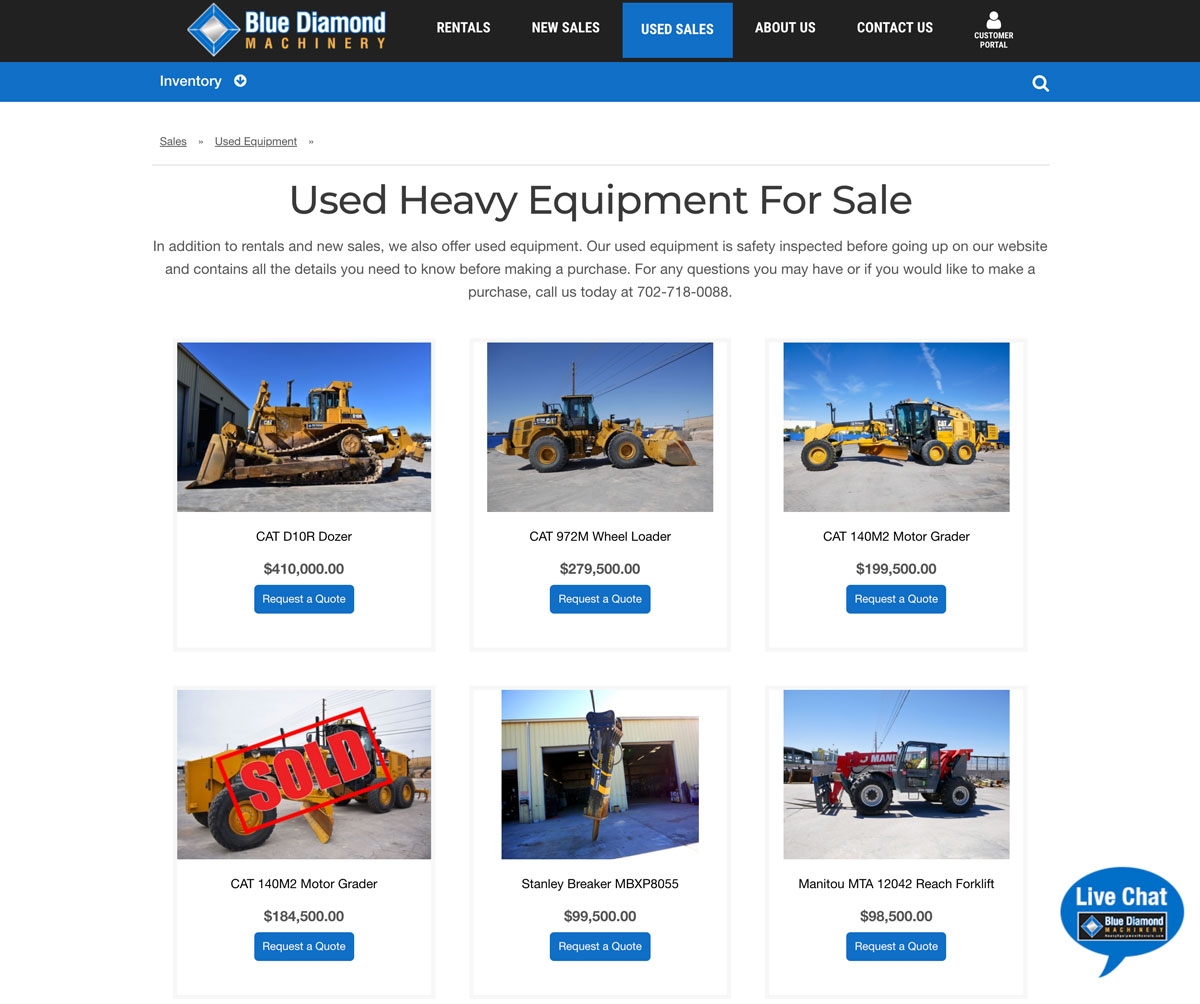 Selling heavy equipment is not easy.  And figuring out which equipment listing sites are worth the effort and which aren't can be overwhelming. Many construction equipment companies struggle to sell equipment on the internet.
Heavy equipment is a niche market—Not many people shop for quarter-of-a-million-dollar pieces of construction machinery; and even fewer have the capital on hand to make a purchase. And even if you find a handful of people with the interest and resources to purchase a $100,000 excavator or $300,000 bulldozer, they may not be located in your same geographical region and may be unwilling to cover the costs to transport the machine across the state or country.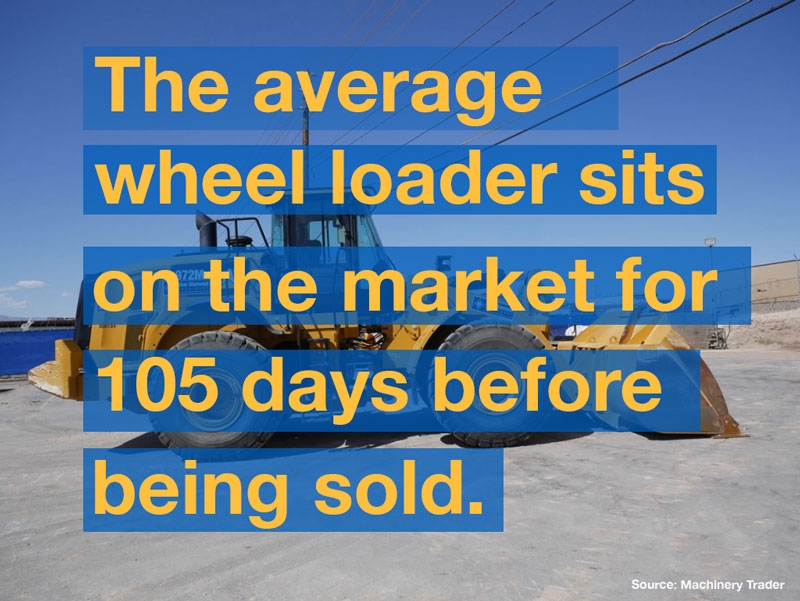 Selling heavy equipment is like selling a property—You have to be prepared to play the long game. For example, according to MachineryTrader.com, the average 972M wheel loader sits on the market place for 105 days before it is purchased. So if you've been trying to sell a machine for several months and haven't had any success, be patient. The right buyer will find you eventually—so long as you do your best to get your equipment listings seen.
With that said, below is nine of our top tips for selling heavy equipment online.
1. List your equipment on Machinery Trader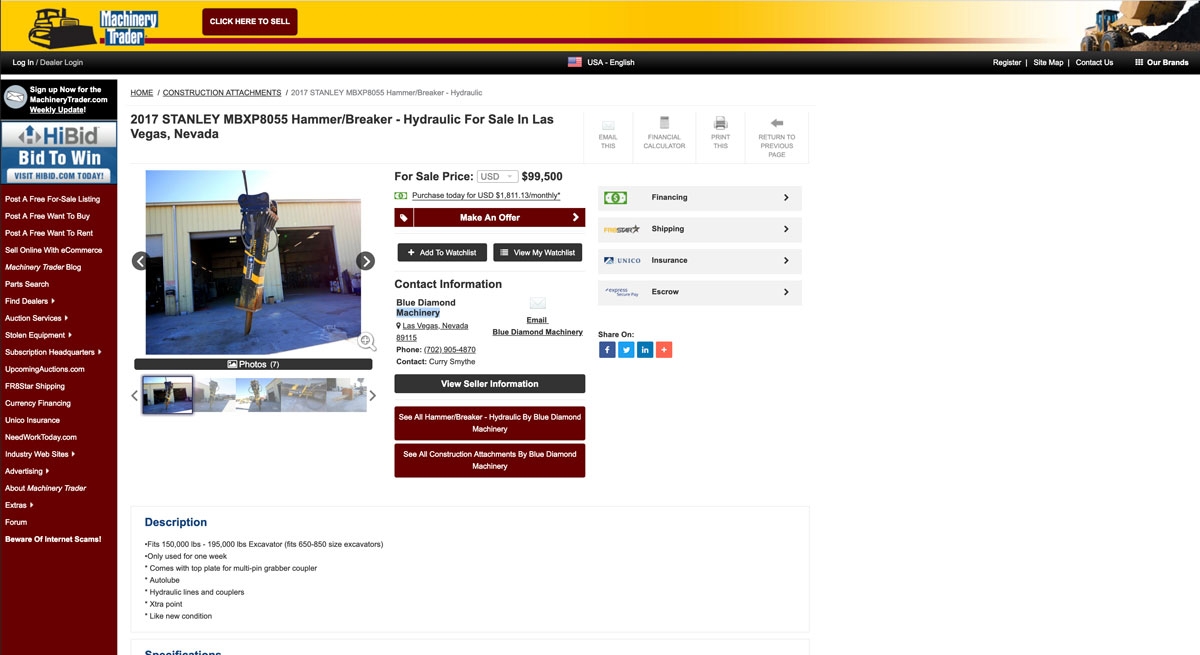 Machinery Trader remains one of the top websites for shopping for heavy equipment. It consistently ranks at the top of Google search results for high volume search terms like "excavators for sale" or "heavy equipment sales," ensuring your listings are likely to get a lot more eyeballs on them than if you were to only list the equipment on your company site or on less established websites.
Pros: Certain advertising packages provide in-depth data and analytics. You can track how many impressions and clicks an ad receives as well as how many phone calls each ad generates. You even have the option of recording incoming phone calls, so that a supervisor can listen back and provide feedback to sales reps on how they might better improve their lead to conversion rates.
Cons: It can be expensive to list equipment on Machinery Trader. Their pricing model still revolves around their print magazine, which is how they justify the higher-than-expected advertising costs.
Machinery Trader does not currently allow equipment dealers to just list their equipment online—If you want to list equipment on their website(s), you must also pay for a listing in their print magazine. Ad costs start at $50 per week per machine and the ad packages that include unlimited inventory listings start at $295 per week.
2. List your equipment on Craigslist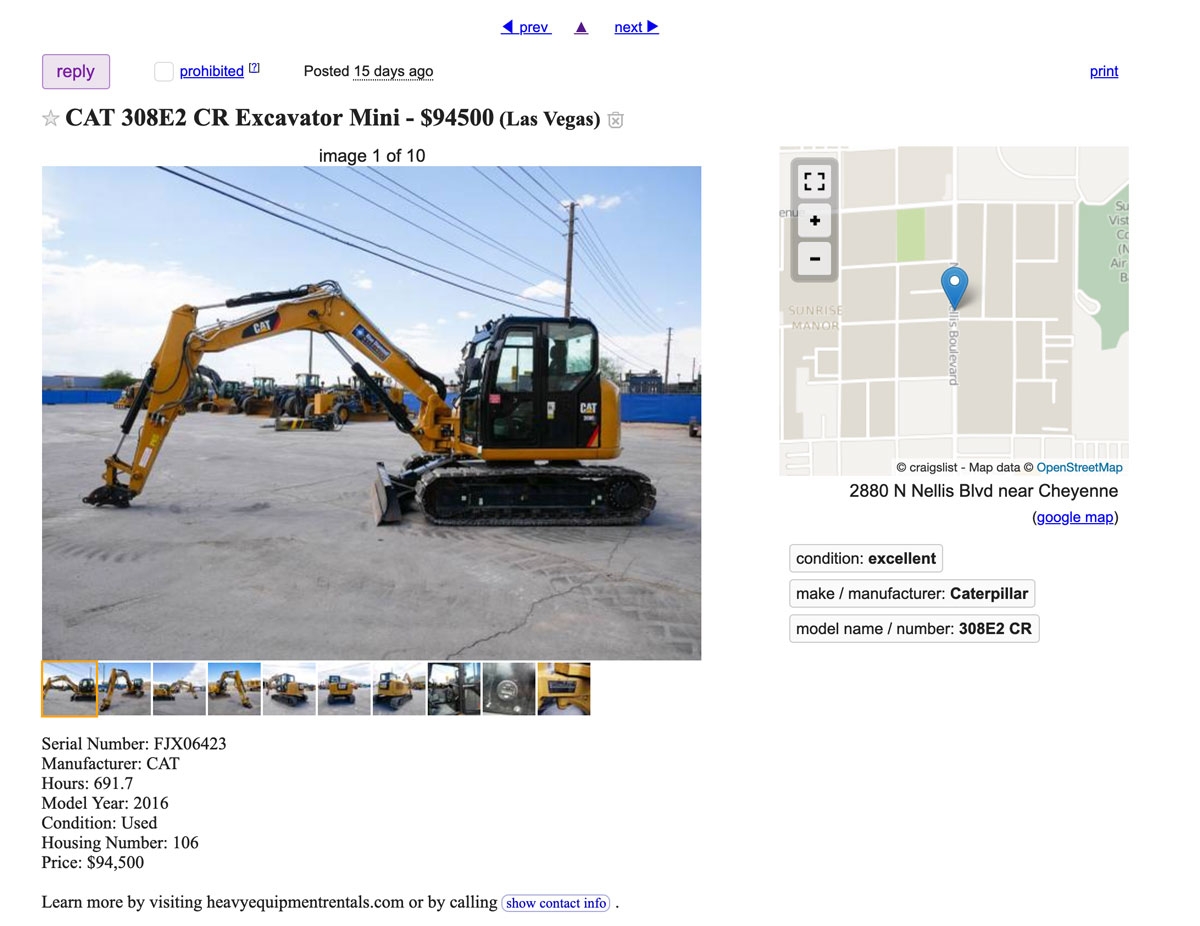 Craigslist may not be the first place you'd think of listing pricey construction equipment, but Craigslist has an entire heavy equipment category devoted to just that. At the time of writing, the Craigslist Heavy Equipment page for Las Vegas, for instance, had 1050 local sales listings.
Pros: Listings made by equipment owners are free. Plus, "heavy equipment for sale Craigslist" is a popular search term on Google, which suggests that a great number of people are shopping on craigslist for heavy equipment.
Cons: Craigslist discourages sellers from listing equipment outside of the city where their business is located. If your business is located in Las Vegas and you try to list your equipment in Los Angeles or Phoenix, for example, your listing could get flagged for removal.
Pro-tip: When listing your equipment, don't include your email address. Scammers and hackers have been known to use Craigslist to send phishing emails. If someone is interested in buying, they will call—So we recommend just including your phone number and website.
3. Post your machines in Heavy Equipment Groups on Facebook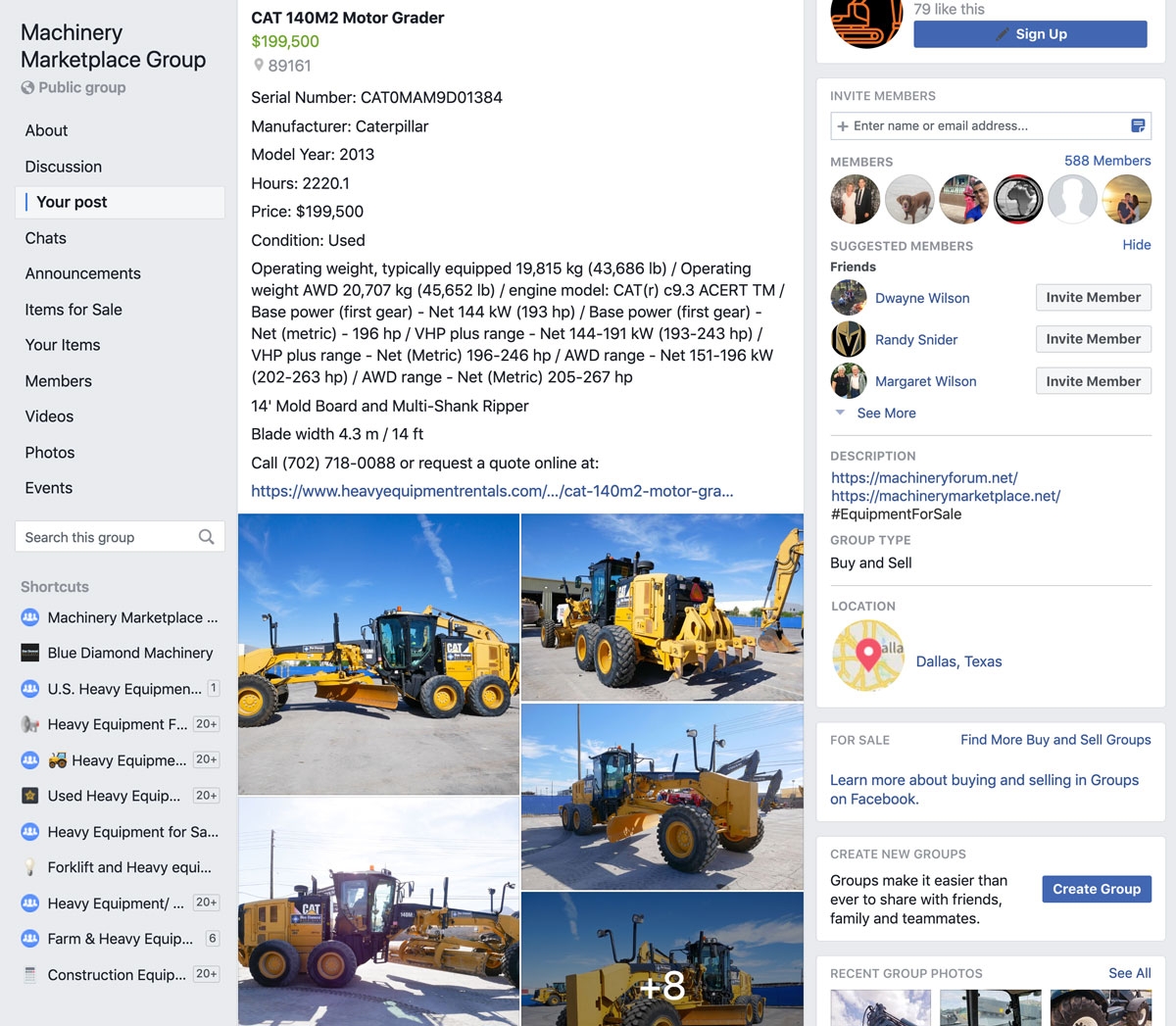 Facebook has over two dozen groups dedicated to buying and selling farming and construction equipment. Some groups are general "heavy equipment for sale" groups while others are dedicated to a specific category of machine—forklifts, for example—or a specific region—the Southwest United States.
Pros: Listing equipment in Facebook groups is free and the platform allows you to post a single listing across dozens of groups at once. The entire process to list a piece of equipment only takes a few minutes.
Facebook groups may also prove to be a great way to get equipment seen by potential customers, thanks to a recent tweak in the newsfeed algorithm. At the time of writing, Facebook updated its algorithm to "prioritize the Pages and groups we predict an individual may care about most," which has resulted in posts from groups showing up at the top of many people's feeds.
Cons: Many of the heavy equipment groups on Facebook have thousands of members, with new listings appearing on each group's page several times a day. It can be tough to cut through the noise and get your listings seen.
Pro-Tip: Post quality photos and make sure to include a link to your website in the post's description. Even if no one from Facebook purchases your machine, providing a link can drive traffic to your site; helping to increase brand awareness.
4. Grow a targeted email list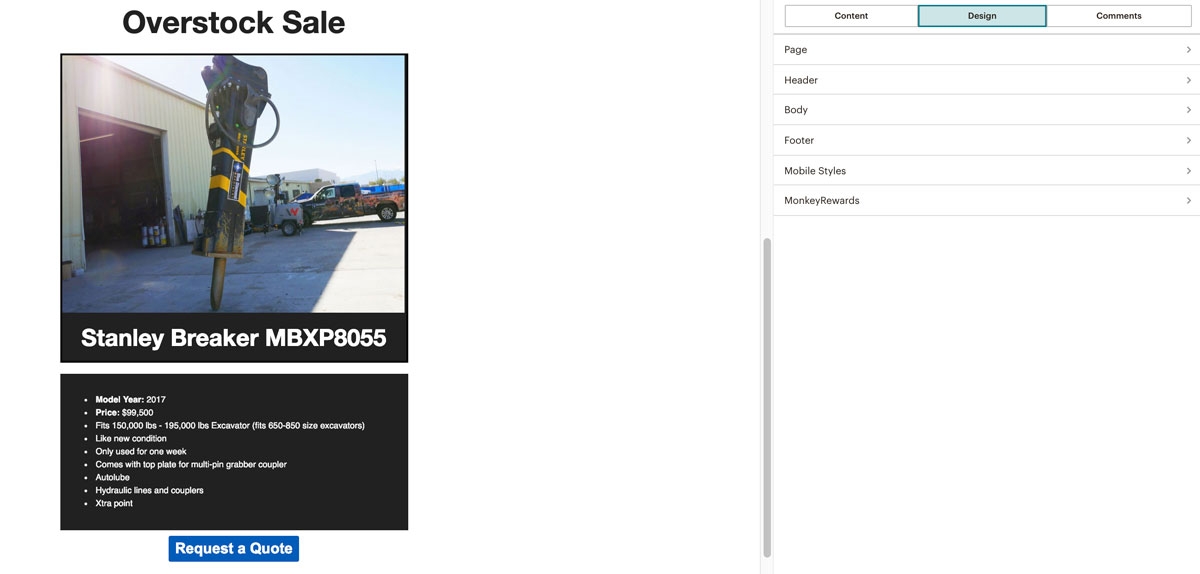 When done right, email marketing can be an effective way to sell heavy equipment. Encourage people to subscribe to your email list by including an email capture plugin on your website and run a Facebook ad targeting your Facebook fans and people who have visited your website previously (you'll need to install a Facebook Pixel first in order to do this).
Pros: Email marketing platforms like Mailchimp are free if you sign up for their basic package. Unlike Gmail or Outlook, an email marketing platform gives you detailed data on which of your email subscribers opened your email and which clicked on your email links, allowing you to retarget those who've clicked on your listings with follow-up emails.
Cons: Growing a list of targeted leads takes time and strategy. It also takes skill, as doing it wrong can result in getting your account banned as Spam. We recommend taking a email marketing class if you're new to digital marketing. Many of the courses are offered free of charge.
5. Reach out to dealers in your region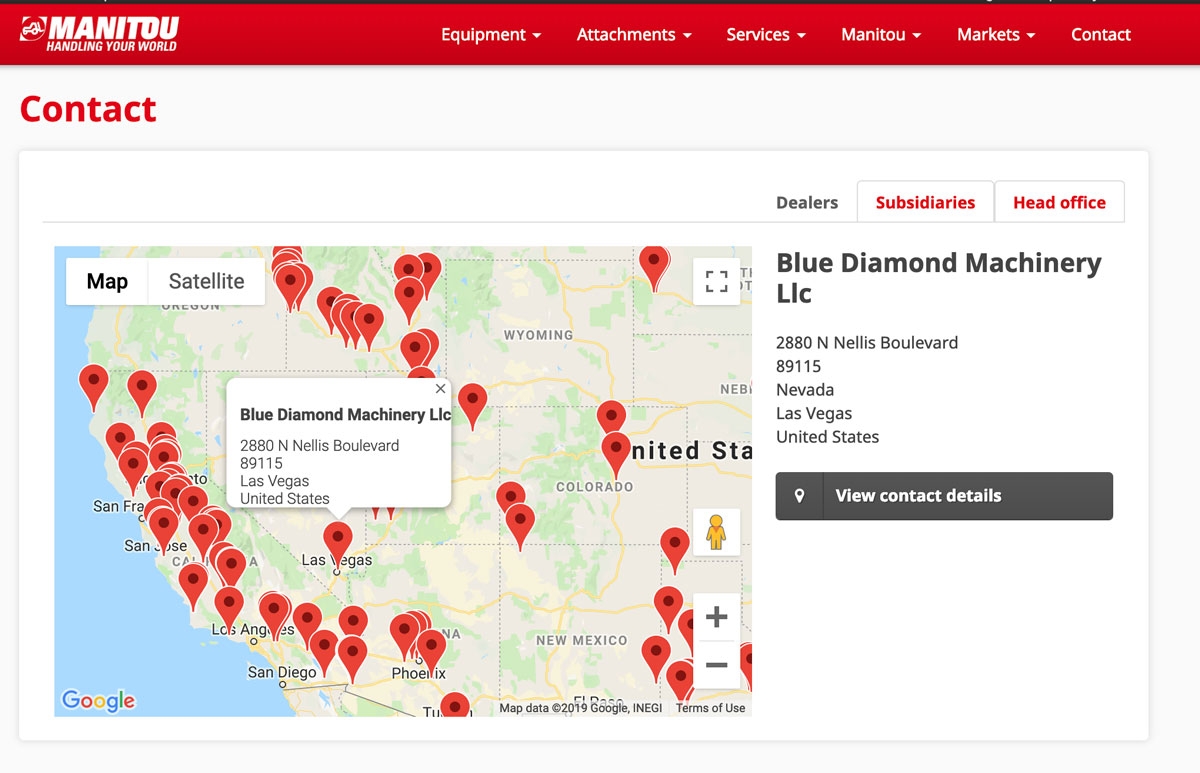 Rather than running a Facebook ad, commercial or billboard and hoping an equipment sales rep notices it, why not contact that rep directly? If you have several Caterpillar machines for sale, for example, do a search of CAT dealers in your area and send them an email or give them a call. You'll want to find the name and direct email of the person you're looking to contact, but many equipment sites have their sales reps contact info listed on their directory page.
Pros: A phone call or email is quick and easy. Even if the sales rep doesn't have room in his budget to purchase your machine right now, you'll have gotten on his radar and he may keep you in mind next time he is looking to buy.
Cons: Heavy equipment companies hear from salespeople all day long, so they may be hesitant to accept a cold call without an appointment.
6. Ramp up your SEO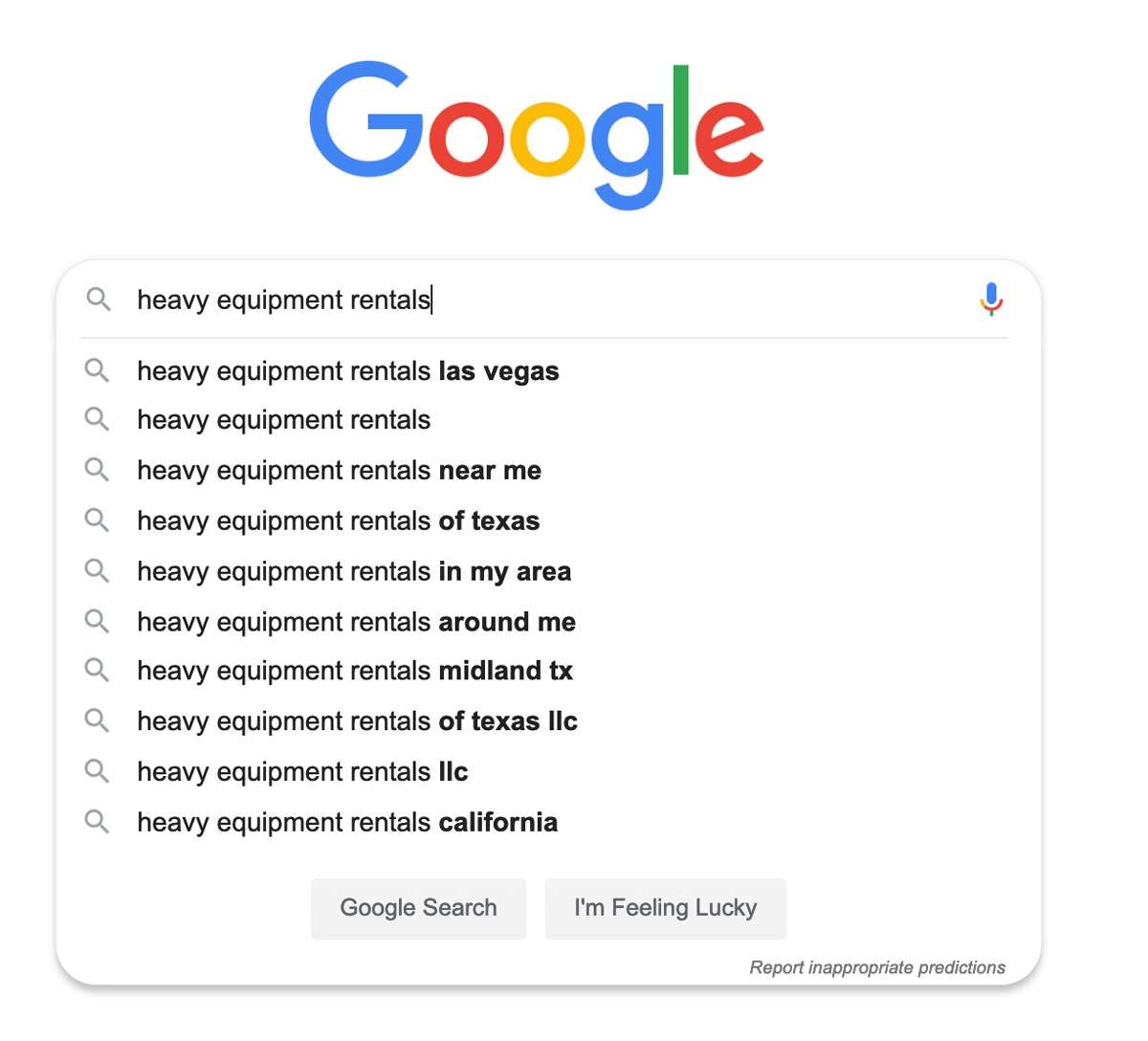 SEO stands for Search Engine Optimization—It's the art of ranking your website for specific search terms that your would-be buyers might be typing into Google—like "caterpillar motor grader" or "wheel loader for sale," etc. If you regularly sell a lot of the same type of equipment, it may make sense to create a page on your website that targets a specific keyword—such as "excavators for sale," or "forklift sales." Though it may take years of consistent work before your website starts to rank on the first page of Google and other search engines, it's a longhaul strategy that is worth working toward.
Pros: If you rank organically in search results for popular heavy equipment sales-related search terms, you'll be able to scale back on the amount you're spending on Google or Facebook ads. This may save you money over the long run.
Cons: SEO can take months or even years before you see a payoff. If you're looking to sell equipment right away, you should consider other options, like auctions or listings on Machinery Trader.
7. Connect with potential buyers on LinkedIn

LinkedIn is the social media platform for B2B companies. If you haven't logged in recently, it's worth revisiting, as LinkedIn has done a lot of work to model its newsfeed after Facebook's, making it the unofficial "Facebook for business owners."
Unlike other social media platforms, when you "follow" (or connect) with a new person on LinkedIn, they automatically follow you back. This means you can easily double your number of followers in just a few days. On Instagram, on the other hand, you might follow a hundred new people and only get one or two of them to follow you back in return.
Pros: Because everyone has their job titles listed in their profiles, you can be extremely targeted in whom you select to connect with; friending only people who work in the sales department of companies you're hoping to sell to, for example. According to a HubSpot study, LinkedIn generated 3X more conversions than Twitter and Facebook.
Cons: Many people set up a LinkedIn account and then never visit it again, making it tough to connect meaningfully with people on a regular basis. But that looks to be changing. As of March 2017, 260 million people were logging into LinkedIn on a monthly basis, up from 106 million in 2016.
Speaking of LinkedIn, let's connect! Connect with our marketing department on LinkedIn and follow our business page.
8. Run Facebook ads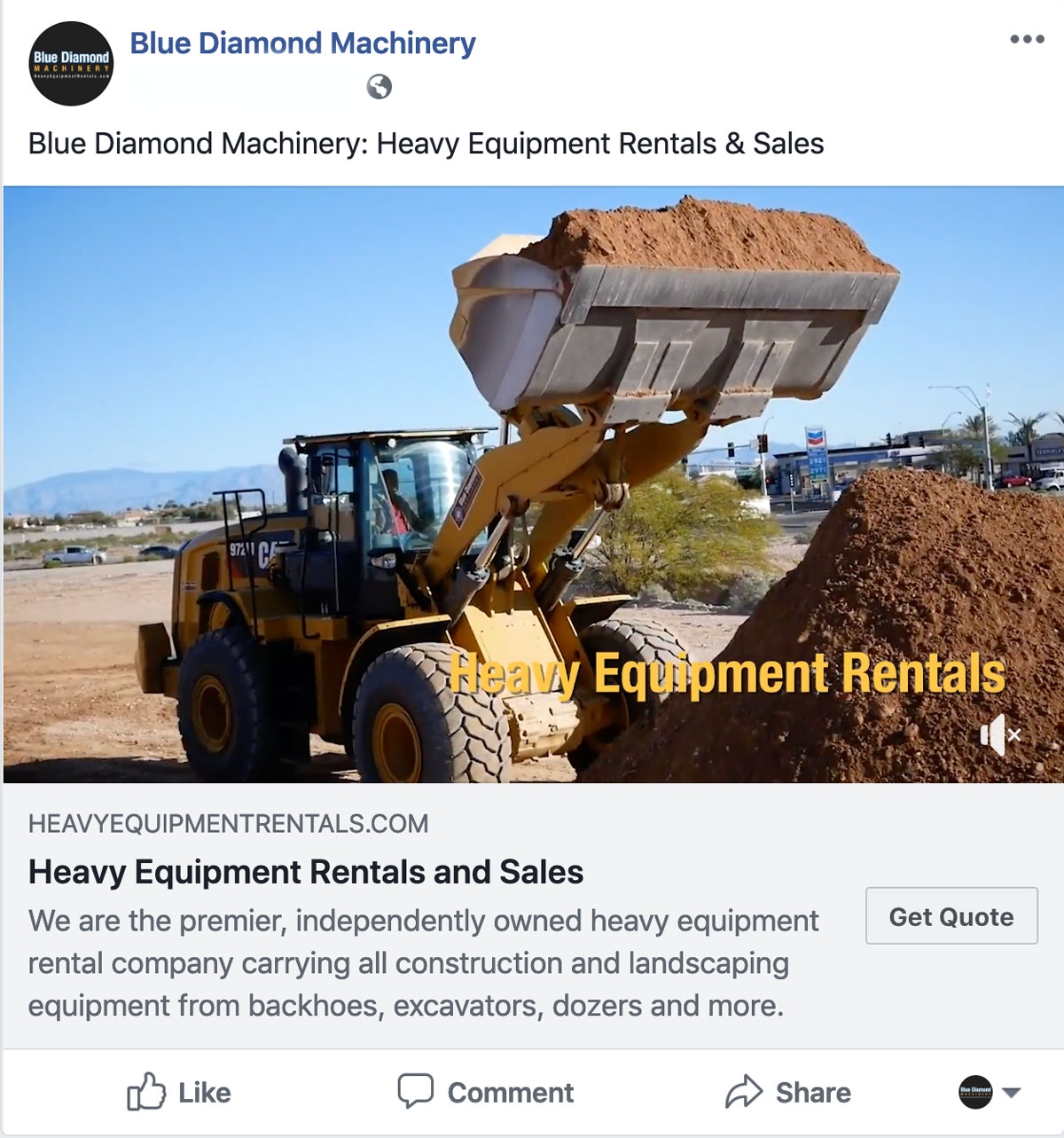 With 2.3 billion users, Facebook remains the largest social media platform on the planet and the world's third-most visited website.
Here are a few relevant Facebook stats:
68% of Americans use Facebook.
The average Facebook user clicks on 8 ads per month.
Based on data from our equipment ads, a national Facebook ad targeting people who work in the construction and heavy equipment industries has a potential reach of 350,000 people.
Pros: Facebook ads are relatively cheap. When done effectively, you can generate website visits for as little as just a few cents per click.
Cons: Facebook ads are great for building brand awareness, but it can be a tough platform to use to drive immediate conversions. People log into their Facebook feeds to watch cute cat videos and catch up with old friends—not shop. The key is to use Facebook ads to capture email addresses so that you can remarket later via email or Facebook retargetting ads. 
9. Reach out to your current customer base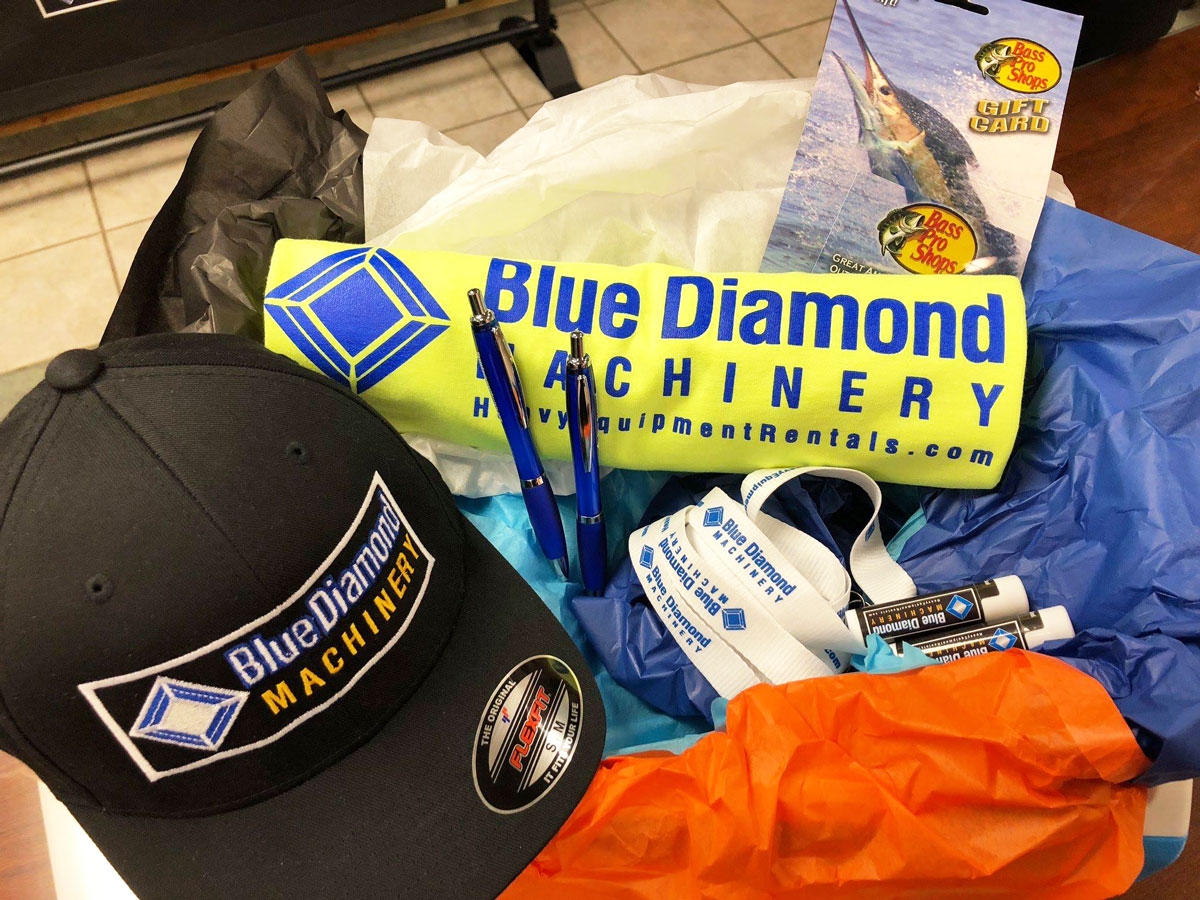 Examples from a customer giveway package we created. 
We've saved the best for last. From our experience, the most effective way to sell heavy equipment is by reaching out to previous or current customers. Why find new buyers when you can sell equipment to those who already know and trust you? A significant number of sales we've made over the last two years have come from our current rental clients. 
Pros: It's easy—Your customers are familiar with your equipment and they already trust you. You don't have to spend a lot of time and resources convincing them to give your company a chance—they know they can count on you to give them a good deal.
Cons: None. While this shouldn't be your only selling strategy, we see no downsides to keeping your customer base aware of upcoming sales and new inventory items. 
---
About Heavy Metal Equipment: Heavy Metal Equipment is an independently-owned construction equipment company in Las Vegas that rents and sells heavy equipment across the American Southwest. Read our About Page to learn more.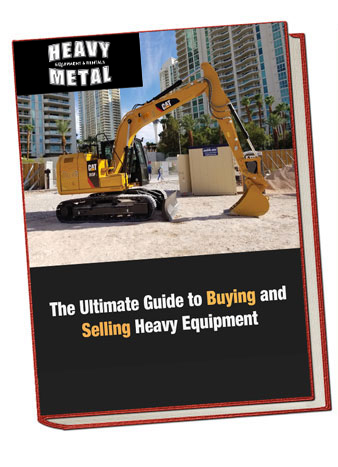 FREE

Guide to Buying and Selling Heavy Equipment

Enter your details to receive our complimentary ebook